Conference and Venues
Conveniently located in the peaceful green haven of Stranmillis University College, close to the city centre, Stran Business offers a comprehensive suite of superbly appointed and equipped conference and events facilities. Our experienced and dedicated Conferencing and Events Team are on hand to assist you plan and deliver a memorable event, tailored to your needs.
inspirational, peaceful setting
extensive, versatile suite of facilities for small, medium and large events
on-site accommodation available
flexible catering and hospitality packages
free on-site parking
full AV and WiFi facilities


Conference Hall
Bright, airy and with views onto the College's wooded campus, The Conference Hall, located in the listed neo-Georgian Main Building, is a unique setting for conferences of up to 200 people. Classical architecture, oak panelling and high-arched windows create a warm and welcoming ambience for any event.
fixed raised stage
full AV, sound and IT facilities
extensive suite of seminar and break-out rooms
separate reception areas


Craigantlet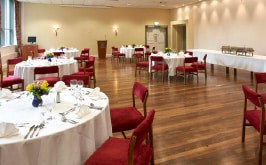 Warm and welcoming, with rich mahogany flooring and views onto the College campus, the spacious, multi-functional Craigantlet suite has its own reception area and is ideally suited for medium-sized conferences of up to 150 delegates, seminars, small exhibitions and private dining.

Slemish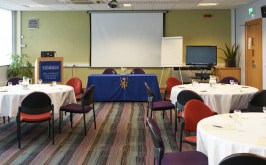 Bright and stylish, Slemish  can accommodate up to 105 delegates and has a separate  reception and hospitality area. Slemish can be combined with Binnian and Donard for events that require additional breakout spaces.

Binnian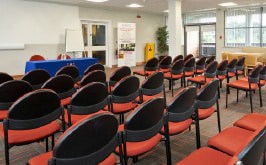 The triple aspect Binnian suite is a highly flexible venue with an integral café-style seated area and a separate reception and hospitality area. Binnian can be combined with Slemish and Donard for events that require additional breakout spaces.

Donard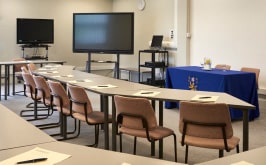 The dual aspect Donard room is an ideal space for more intimate events of up to 40 people, and is equipped with the latest Promethean interactive presentational system.


Drama theatre
The fully equipped Drama Theatre, located in the heart of the campus, is a highly versatile 271-seat, tiered auditorium with adjoining reception area and easy access to an extensive range of seminar and break-out rooms. Equipped with comprehensive lighting, sound and AV systems, the auditorium is ideal for conferences, seminars, events, product launches and much more.
tiered seated auditorium
large stage area with partition curtains
separate reception area
extensive suite of seminar and break-out rooms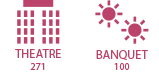 Seminar Rooms and Lecture Threatres
The Central Building, the College's main teaching facility, together with the award-winning Orchard Building, heritage listed Main Building and the imposing Stranmillis House, provide an extensive range of fully equipped conferencing and event venues for small to medium-sized conferences, seminars and workshops.
extensive range of seminar rooms and lecture theatres
fully equipped AV, sound , WiFi and IT facilities including the latest Promethean interactive presentational systems
full catering facilities available

For more information please call 02890384251 or 02890384524 or email hospitality@stran.ac.uk
Catering Available
We can provide catering for your conference, meeting or event.
Always connected
Stranmillis has invested heavily in the latest communications technology and campus-wide high speed WiFi
A great location
Located in the heart of Belfast there's always something to do.
Green campus
The College is the first HEI in Northern Ireland to be awarded EcoCampus status.