Event Date: 17th June, 2020
CREU Seminar #3 – Closing the Educational Inequality Gap
Dr. Feyisa Demie
Wednesday 17th June 2020
2.00pm-4.00pm
Register here.
The CREU 'Achieving Education' seminar series is a forum for diverse stakeholders in Education in Northern Ireland to meet, hear about recent research from an expert in the field, and subsequently engage in structured debate with invited panellists representing different interest groups.
Due to the COVID-19 pandemic counter-measures in place at the College, this event will take place via webinar. Please register using the Eventbrite link above, and you will receive a secure link before the event.
As educational underachievement is a long-term policy issue in Northern Ireland, we expect high levels of engagement from stakeholders.
Dr. Feyisa Demie is an Honorary Professor at the Durham University School of Education and also head of research and adviser for school self-evaluation at Lambeth LA. He has worked extensively with Local Authorities, government departments, schools and school governors for over 25 years in the use of data and research to raise achievement. As an education adviser he works with schools covering all phases of assessment, from foundation stage to GCSE. He also runs school focussed training programmes to support school self-evaluation for headteachers, teachers, governors and policy makers, as well as an annual national school improvement conference at UCL Institute of Education to share good practice in schools. He recently authored Educational Inequality: Closing the Gap (Trentham, 2019).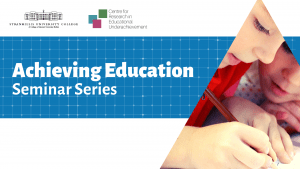 Reasons to study at Stranmillis
Student Satisfaction
Ranked No.1 for satisfaction in Northern Ireland.
Work-based placements
100% of our undergraduate students undertake an extensive programme of work-based placements.
study abroad
32% of our students enjoy a study abroad experience.
student success
We are proud to have a 95% student success rate.