Event Date: 24th June, 2020
Lifelong Learning Exhibition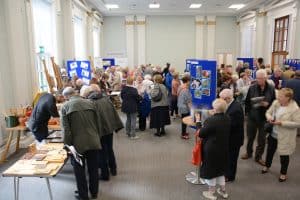 The launch of the 2020-21 Annual Lifelong Learning Programme is scheduled on Wednesday 24th June 2020 at 6.00pm.
We will be celebrating the achievements of Lifelong Learning tutors and participants with an exhibition of photography, paintings, sketches, woodcarving, textiles, ceramics, poetry and publications. It is a wonderful opportunity to engage with lifelong learning tutors and fellow learners……. and to collect a few copies of the programme in advance of the mail out. 
Light refreshments are available and the event is free, although numbers will be limited and registration is essential.   BOOK NOW
Venue: Conference Hall, Main Building
Time: 18:00pm
Intergenerational Community of Learners
A great location
Located in the heart of Belfast there's always something to do.
Green campus
The College is the first HEI in Northern Ireland to be awarded EcoCampus status.
Security
With 24 hour residential support and security you're always safe.
Always connected
Stranmillis has invested heavily in the latest communications technology and campus-wide high speed WiFi

Warning: file_get_contents(): Filename cannot be empty in /home/stran817/public_html/wp-content/themes/stran-uni/inc/parts/icons/icon-code.php on line 36

Lifelong Learning Exhibition
Lifelong Learning Exhibition