Event Date: 14th September, 2022
VIRTUAL SEMINAR: Males in the Early Years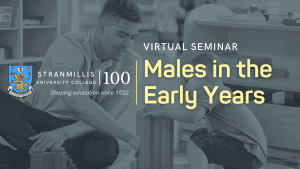 Wednesday 14 September 2022
2.00pm-4.00pm
Free, open access online webinar.
Registration via Eventbrite
An evidence-based and practice-informed webinar exploring the importance of increasing male participation in the ECE sector.
About this event
Keynote speakers: Dr David Brody is an Associate Professor of Education and former Academic Dean and Chair of the Early Childhood Department of the Efrata College of Education, Jerusalem. His career spans a lifetime of work with young children, from his time as a kindergarten teacher, to a researcher and author of many books and journals on Males in Early Years. He is a current co-chair of the Gender Balance Special interest Group for the European Early Childhood Education Research Association.
Chair: Dr Barbara McConnell (Senior Lecturer, MA Programme Leader, Academic Area, Early Childhood Studies, Stranmillis University College)
Panellists: the guest panel will include Ms Pauline Walmsley (CEO, Early Years organisation), Dr Joanne McHale (TU Dublin), Mr Conor McArdle (Surestart, South Armagh) Mr Kevin Duggan, Childcare Partnerships) & Mrs Karen Small (Principal, Ballymagee Primary School, Bangor).
About
Early Childhood Care and Education is one of the most important and valuable professions anyone can enter; however, males make up less than 2% of the workforce in NI. For a number of years, Stranmillis University College has identified as a priority the need to increase the number of males entering the profession. We feel it is important to recruit men into the sector and we wish to cement its significance for Universities and Colleges, Government and policy makers, Schools, Early Childhood Care and Education Providers and stakeholder organisations, so that they target and prioritise the issue of gender imbalance in the workforce.
This webinar presents an evidence-based and practice-informed insight as to why it is important to increase male participation in the ECE sector. The webinar will feature national and international experts and provide some case studies of exemplary practice, to help professionals consider how they can contribute to this NI initiative.
The webinar will be of interest to those from a wide range of disciplines, including education (especially Preschool and Primary), Childcare, Adult Education and Training, and Sure Start, etc.
Presented by Stranmillis University College, Belfast. Find out more: www.stran.ac.uk
Reasons to study at Stranmillis
Student Satisfaction
Ranked No.1 for satisfaction in Northern Ireland.
Work-based placements
100% of our undergraduate students undertake an extensive programme of work-based placements.
study abroad
32% of our students enjoy a study abroad experience.
student success
We are proud to have a 95% student success rate.