Event Date: 14th June, 2023
Times and Seasons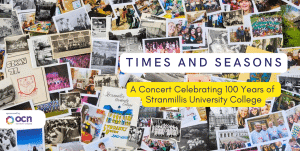 Wednesday 14 June 2022
Assembly Buildings Conference Centre
Free event.
On Wednesday 14th June, Stranmillis University College will conclude a year of centenary celebrations with an event in the Assembly Buildings Conference Centre, Belfast. 'Times and Seasons' will be a musical reflection of Stranmillis across our 100-year history. Music has always been an integral part of the life of the College and the evening will bring together current and former students and staff to bring our celebrations to a close.
The event will be an opportunity to connect and re-connect; to join with old friends and remember your time at and memories of Stran, and to make new connections with the people and events which have been part of the history of the College before or after your time. As we look to the future, 'Times and Seasons' will bring us together as the Stran family.
Book your place now for this memorable evening.
Reasons to study at Stranmillis
Student Satisfaction
Stranmillis is ranked first in Northern Ireland for student satisfaction.
Work-based placements
100% of our undergraduate students undertake an extensive programme of work-based placements.
Study Abroad
All students have the opportunity to spend time studying abroad.
Student Success
We are proud to have a 96% student success rate.