Teaching and Supporting Remote Learners Online
This 4-week (part-time) Professional Learning course has been designed to support education professionals as they develop and implement blended learning strategies for pupils and students working from home in response to the significant challenges schools and colleges will face over the coming school year.   The focus of the course is on the promotion of 'teacher presence'  and a quality 'blended learning provision' for all children and young people, using simple technology skills to inspire and motivate learners. This is a supportive course for teachers to enhance the wellbeing of children and young people working from home. Advice on a post-crisis recovery learning plan will be supported.
Learning Outcomes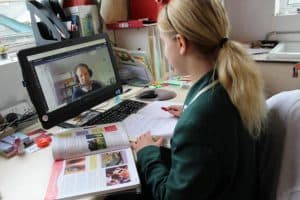 Whilst online remote teaching utilises many of the same skills as face to face teaching, there are marked nuances in terms of the interpersonal and communication skills that practitioners need to hone. Engaging pupils from a distance is vital. The course has been designed to support and develop the remote teaching and learning skills that foster pupil engagement.  
The course focuses on the promotion of 'teacher presence' for all children, using simple technology skills such as webinars and video lessons. 
At the end of the course, teachers will be able to:
design a lesson for online learners  (including mobile access) in support of key curriculum targets;

develop an engaging environment for remote learning using synchronous and asynchronous communication tools to support online remote learning;

stimulate learners across appropriate key stages (from key stage 2 to key stage 5) by developing interactive lessons and communication;

create remote lesson exemplars of good practice for future online and blended learning across key stage 1, 2, 3, 4 and 5 and post 16 further and higher education;

assess for learning using a range of interactive support tools accessible to pupils with internet access, including mobile learner access.
Course Format
Suitable for online and home study, the course will use the College's Canvas virtual learning environment, with 2 hours per week of webinars, video tuition and examples of best practice. As the course utilises a coaching and mentoring approach, the number of participants on the course will be capped at 30.
Duration
The course will run one day a week for 4 weeks commencing 10th August, 17:15-19:15.
Cost 
£260
Participants are strongly encouraged to complete an assessment as part the learning outcomes. Successful completion of the assessment will lead to the award of a Certificate of Attainment. The Certificate of Attainment can be used as evidence to claim Recognition of Prior Learning for the MTeach, Master of Teaching at Stranmillis University College.
To Book
Please follow the EShop link here to book your place
Course FAQs
How long is the course and when will it be taking place?
Four weeks, one day per week
Who can I contact for further information?
The Course Tutor  is Celia O'Hagan, Senior Lecturer at Stranmillis University College. You can contact Celia at c.ohagan@stran.ac.uk
Alternatively email Louise O'Sullivan, Course Administrator on cpd@stran.ac.uk
Are there any specific IT / technical requirements needed?
As long as you have access to a PC or laptop that is capable of running apps like youtube and you have good internet connection, there are no specific IT or technical requirements.