Campus
The Stranmillis campus is a space of remarkable beauty and interest. Listed buildings and modern teaching spaces; ponds, woodlands and open spaces; bespoke facilities for sport, art, drama and music; and places to eat, drink and relax combine to create a self-contained campus for you to study, live, relax and unwind. The University College grounds hold an interest for naturalists, geologists, archaeologists and historians, and provide pleasure for those who simply enjoy walking in pleasant surroundings.
Green EcoCampus
The College grounds are a designated conservation area and have been awarded EcoCampus status.
Relax
Walk through the gates of the College and it's easy to forget that you are so close to the heart of the city. Set in 18 hectares of beautiful woodland, the campus is a safe, peaceful green haven. A designated conservation area, the College has been awarded the prestigious EcoCampus status. When not in class, enjoy a stroll, walk or run (the campus hosts a parkrun every Saturday morning) through the grounds or simply relax in your favourite secluded spot. Every season, the grounds display their own particular beauty.
Unwind
When it's time for some downtime, there are plenty of social spaces and  recreational facilities on campus. Betty's Coffee Shop, Scholars Bar, Cybertub, Chatz and the Students' Union are lively social spaces where you can meet and spend time with friends. If you are after something more active, you can hit the gym, sports hall or dance studio.
Enjoy
The College grounds, with its rich and varied habitats, are a valuable resource for students, staff, visitors and the local community. Many of the trees were planted about 200 years ago and wise planting since has created the wooded landscape we enjoy today. Badger Wood is home to a wide variety of wildlife and birds. Beneath is a marsh fed by a natural spring, where creeping buttercup and orchids provide a blanket of colour. Lying in a woodland depression is The Pond – thought to be a kettle hole formed by melting ice at the end of the last glacial period – where the sights and sounds of jays and sparrowhawks, herons, kingfishers and ducks are not unusual.
Campus Map
Find your way around our main campus buildings by downloading our campus map here.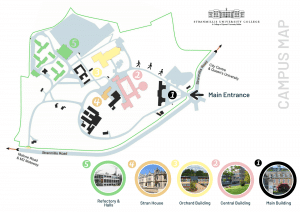 REASONS TO STUDY AT STRANMILLIS
MUST VISIT DESTINATION
Belfast is one of the Top 10 cities on the rise (Lonely Planet) and top 12 world travel destinations (Frommer's).
STUDENT RETENTION
Stranmillis has one the highest student retention rates in the UK at 98%.
Student Satisfaction
Stranmillis is ranked 1st in Northern Ireland, and 6th in the UK, for student satisfaction (NSS 2020).
Always connected
Stranmillis has invested heavily in the latest communications technology and campus-wide high speed WiFi
A global community
The campus attracts students and staff from over 30 partner universities worldwide
Stran Halls
Affordable student living with 459 fully furnished single bedrooms
Security
With 24 hour residential support and security you're always safe.
Budget Friendly Prices
Great prices from only £90 per week.