Stop 8: Bumblebee Nest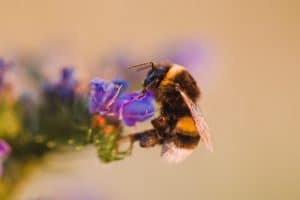 How many entrances can you count? The queen bumblebee comes out of hibernation in the spring to make her nest. She is very lucky to have so many early flowering trees and bushes at Stranmillis, where she can have a quick sugar drink to build up her strength. She makes her nest underground, often in a smelly, old mouse hole, collects pollen food for feeding her young larvae and then lays her eggs. The next generation is born ready to help pollinate the flowers of the fruit and vegetables we love to eat. Just think, there would be no strawberries without bees, and they also help pollinate the coffee for your teacher too! It is not just bees that pollinate our fruit but other insects too. Tiny midges pollinate the equally tiny flowers of the cocoa crops that make our chocolate.
Activity:
Can you spot any other good nest sites for bees or a bee on a flower?
Why Study At Stranmillis?
Must Visit Destination
Belfast is one of the Top 10 cities on the rise (Lonely Planet), top 12 world travel destinations (Frommer's).
Student Retention
High student retention rates at >95%.
Student Satisfaction
Stranmillis is ranked first in Northern Ireland for student satisfaction.
A network of partners
The College has a network of over 750 school, education and insight placement partners.
Global community
The campus attracts students and staff from over 30 partner universities worldwide.
Large selection of rooms
Choose from single standard or single en-suite.
Security
With 24 hour residential support and security you're always safe.
Budget friendly prices
Great prices from only £115 per week.