STOP 3: Ivy Berry Tree
Remember never to pick and eat strange berries, as many are poisonous to people. Ivy leaves can cause a mild skin irritation in some people.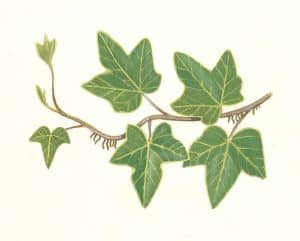 Ivy is a fantastic home for nature! It is evergreen, so it keeps its leaves all year round. Its dense cover provides shelter and protection for many birds, bats, insects and small mammals. Nectar and pollen from the flowers and ivy berries are important food sources for insects and birds during autumn and winter, when there is not much else left to eat.
Bramble too, with its tangle of stems and sharp thorns, provides great safe places for birds to nest. Pollinators love its small clusters of pink or white flowers in summer, and juicy berries in the autumn, give birds energy and us too! Do you think a blackberry and apple pie would be just perfect after a walk around the nature trail?
Activity:
Can you spot any ivy flowers or fruit? Look on the trees, walls and fences to see if you can see any tiny roots, where the ivy has attached itself.
Can you see any bramble plants, with their sharp thorns and blackberries growing? Keep an eye out for the holly trees, with their prickly leaves and bright red berries. Tiny black berries are growing in bunches on the elder trees, can you see these? Berry trees are perfect for planting in small spaces.
Why Study At Stranmillis?
Must Visit Destination
Belfast is one of the Top 10 cities on the rise (Lonely Planet), top 12 world travel destinations (Frommer's).
Student Retention
High student retention rates at >95%.
Student Satisfaction
Stranmillis is ranked first in Northern Ireland for student satisfaction.
A network of partners
The College has a network of over 750 school, education and insight placement partners.
Global community
The campus attracts students and staff from over 30 partner universities worldwide.
Large selection of rooms
Choose from single standard or single en-suite.
Security
With 24 hour residential support and security you're always safe.
Budget friendly prices
Great prices from only £115 per week.