Stop 14: Pipistrelle Bat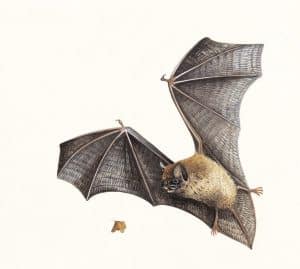 We'd like to finish with a very special nocturnal creature, the pipistrelle bat. These tiny bats are very agile, fast fliers. In the summer they use trees, buildings and bat boxes to roost. They emerge at dusk to feed for a couple of hours before returning to their roosts. A single pipistrelle bat can eat 3,000 gnats in one night! All bats are protected and should never be disturbed. They help us here in Northern Ireland by eating insects like midges that bite us.
Activity:
Can you spot any old trees or buildings, where bats could have a safe place to roost and hibernate for winter?
("Bat and Moth" is a fun game to play. The class makes a circle. One child covers their eyes with a blindfold and is the bat standing in the middle of the circle. Four other children are moths. The moths try to move around inside the circle as the bat tries to catch or point to where it hears a moth move.  You can add bells to the moths to make the game more challenging!) If you walk back to the oak tree where we started the trail today, there is a great open space for playing the game.
We hope you enjoyed discovering some of the wildlife today that Stranmillis is protecting with help from the RSPB NI. Nature helps us in so many ways even though we do not always realise and appreciate it. Can you remember some of the ways you found out today that nature is helping us and how we can help different animals? We are part of nature too and together we can all keep each other safe and healthy.
"Spread the word" about how to help nature to your friends, family and neighbours so we can all work together save more nature. For final Wild Challenge, click here.
Why Study At Stranmillis?
Must Visit Destination
Belfast is one of the Top 10 cities on the rise (Lonely Planet), top 12 world travel destinations (Frommer's).
Student Retention
High student retention rates at >95%.
Student Satisfaction
Stranmillis is ranked first in Northern Ireland for student satisfaction.
A network of partners
The College has a network of over 750 school, education and insight placement partners.
Global community
The campus attracts students and staff from over 30 partner universities worldwide.
Large selection of rooms
Choose from single standard or single en-suite.
Security
With 24 hour residential support and security you're always safe.
Budget friendly prices
Great prices from only £115 per week.