Stop 4: Tree Bumblebee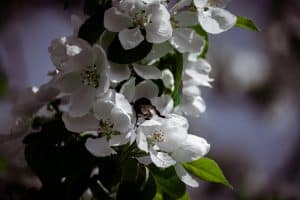 Bees are very gentle and only want to find nectar and pollen to feed their colony. They help us by pollinating most of the fruit and vegetable crops we like to eat. There would be no apples without bees! It is only fair that we should help them, by providing flowers throughout their whole breeding season, starting with snow drops, primroses and dandelions for the queens emerging from hibernation in the spring.
Tree bumblebee queens were first spotted on bramble in Stranmillis College in June 2022. An RSPB NI research project with 6th form students spotted the second generation of queen bees on Himalayan balsam and Himalayan honeysuckle in August 2022. Stranmillis is caring for this newly arrived bumblebee which only came to Belfast in 2017. It has a small black face, lovely ginger thorax (back) and black tail with a bright white tip. It loves sipping nectar from flowers on bushes high off the ground, like this bramble – it's like an energy drink for bees! Keep your eyes out as it nests high up in the trees somewhere in these woods.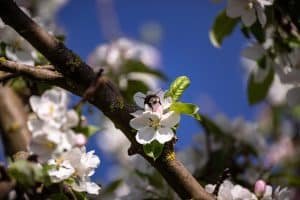 Activity:
"Minibeast safari" This is a perfect spot to look for other minibeasts living under rotting logs or stones, which are the food for many predators. Push a minibeast very gently with one leaf onto another leaf or even better onto the lid of an old glass jar for a closer look.
Why Study At Stranmillis?
Must Visit Destination
Belfast is one of the Top 10 cities on the rise (Lonely Planet), top 12 world travel destinations (Frommer's).
Student Retention
High student retention rates at >95%.
Student Satisfaction
Stranmillis is ranked first in Northern Ireland for student satisfaction.
A network of partners
The College has a network of over 750 school, education and insight placement partners.
Global community
The campus attracts students and staff from over 30 partner universities worldwide.
Large selection of rooms
Choose from single standard or single en-suite.
Security
With 24 hour residential support and security you're always safe.
Budget friendly prices
Great prices from only £115 per week.