Widening Participation and Community Engagement
Through our Widening Participation and Community Engagement strategies, the College is committed to encouraging, motivating and supporting young people from socially and economically disadvantaged backgrounds, and other under-represented groups, to apply for and gain a place at university. The College offers a range of student bursaries and scholarships  to support our widening participation programme. In addition to working closely with schools, community engagement programme directly targets influencers, families, community groups and careers professionals.
As a College, the development and maintenance of  strong working relationships with community organisations such as Mencap, Women's Aid, NASEN, the Northern Ireland Anti-Bullying Forum, the Northern Ireland Language Council, CCEA, NICILT and Cruse Bereavement Care, is a key priority.
Widening Access and Participation Plans
Widening Access and Participation Plan 2023/24 – 2025/26
Widening Access and Participation Plan 2021/22 – 2023/24

Examples of our widening participation and community engagement initiatives are:
Tackling Underachievement
For a number of years, Stranmillis has been working closely with Barnardo's and partner primary schools on initiatives aimed at tackling educational underachievement, with Stranmillis students and graduates developing and implementing innovative, results driven programmes to tackle literacy underachievement. The College recently launched its Centre for Research for Educational Underachievement to provide a focus on this critical issue.
Supporting Communities
Through our work with community based organisations such as Fighting Words, a new creative writing project for children and young people; The Pushkin Trust, which supports creative learning and education through imagination, inspiration and integration; and STRIVE, a youth led programme which focuses on good relations, citizenship, personal development and employability, Stranmillis is playing an active role in encouraging and driving access to education in areas of social disadvantage.
A Journey with A Purpose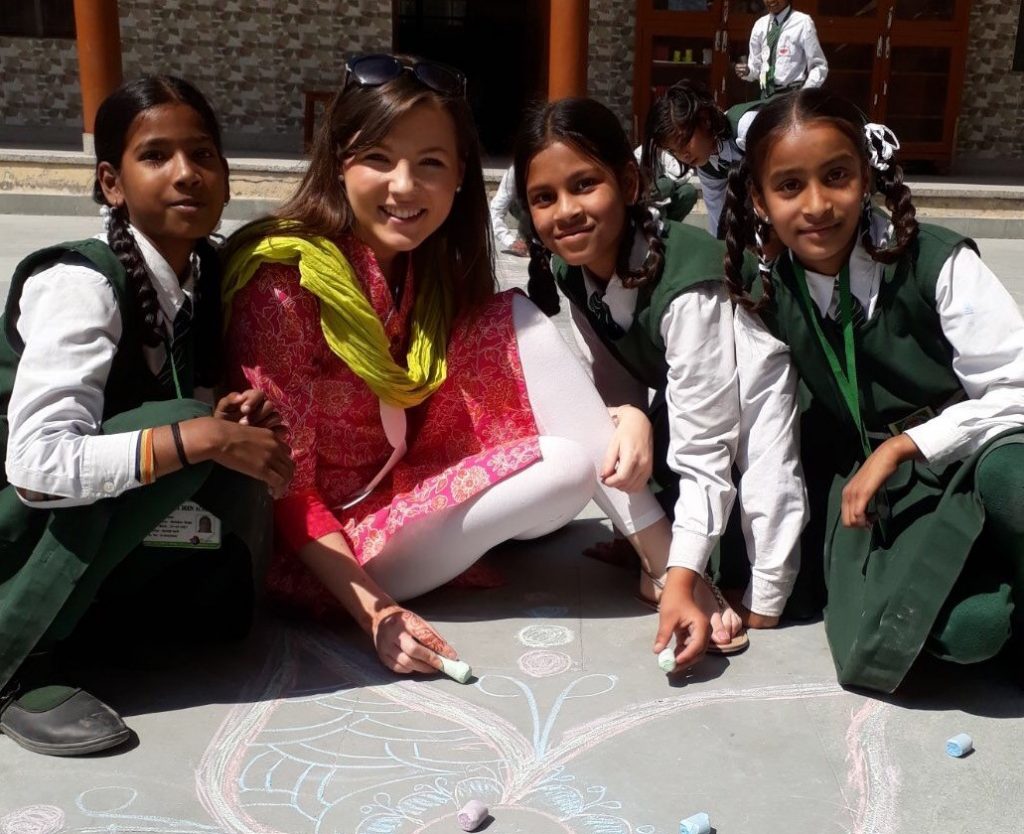 Saphara is an education charity working in India that is  "passionate about bringing young people from N. Ireland and India on 'transformational journeys' where they discover their own value and worth and that they can change the world through working together." Staff and students from Stranmillis and St Mary's have made a number of visits to schools in India with Saphara. Privileged, amazing, inspiring, eye-opening, overwhelming were just some of the words the team used to describe the life-changing experience they encountered.
See Hear Act
As part of the Annual Conference of Women's Aid Federation (NI), a group of our students taking the Drama specialism were asked to create and produce a powerful, interpretative piece of theatre around the main conference theme of abuse. Many of those attending the conference ranked the drama piece as the most thought provoking element at the whole conference.
Fair Trade College
Over the past couple of years, the College has been working with Fair Trade to source, purchase and use Fair Trade products where possible, e.g. coffee, tea, sugar, bananas and confectionery. Promotional campaigns with staff, students and visitors have helped raise awareness of the importance and impact of buying Fair Trade products. As a result, the College has been awarded official Fair Trade College status.
Digital School House
The Digital School House programme combines fun, creativity and innovation to deliver computing and computational thinking in the classroom. Fully trained Lead Teachers are released by their school to undertake play-based learning in computing with primary teachers and their pupils. Dr Irene Bell, Head of STEM at Stranmillis, is the Regional Academic Lead for Digital School House in Northern Ireland.

Namaste, As-Salamu Alaykum, Shalom
To gain a deeper understanding of religious and cultural diversity in Northern Ireland, students specialising in Religious Studies visited the Hindu temple at the Indian Community Centre, the mosque at the Belfast Islamic Centre and the synagogue at the Belfast Jewish Community, speaking with faith leaders about their religious beliefs, practices, symbols, artefacts and places of worship.
Strictly Come Dancing with Robots and Drones
Strictly Come Dancing with Robots and Drones is a series of two-day events for P7 pupils, run in conjunction with St. Mary's University College, that challenges pupils to program robots to dance (complete with music and 'costume') and program drones for aerial acrobatics. The events are designed to assist pupils to better understand elements of mathematics and better engage certain types of learner who might be 'turned off' by theoretical activity.
Christmas Means Panto
A key fixture on the Stranmillis calendar is Stran Panto. With over 150 students involved, 15 performances and an audience of over 4,000, Stran Panto is an experience our students and the schools who attend the performances never forget!
REASONS TO STUDY AT STRANMILLIS
Student Satisfaction
Stranmillis is ranked first in Northern Ireland for student satisfaction (NSS 2022).
Work-based placements
100% of our undergraduate students undertake an extensive programme of work-based placements.
Employability
Stranmillis graduates have the highest full-time employment rate of any HEI in Northern Ireland.
study abroad
All students have the opportunity to spend time studying abroad.
Academic staff
67% of our academic teaching staff are qualified to doctoral level.
Student success
We are proud to have a 96% student success rate.
Academic standards
The UK Quality Assurance Agency reports the highest level of confidence in academic standards.
Network of partners
The College has a network of over 750 school, education and alternative placement partners.