Stop 7: Heron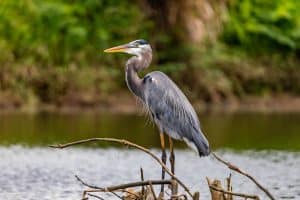 Some birds, such as ducks have webbed feet to swim through the water. They use their broad bills to scoop up pond weeds and tiny aquatic minibeasts.
Look out for waders, birds with long legs to keep their bodies out of the cold water and thick lobed toes which help spread their weight to stop them sinking into mud. The tall grey heron has a dagger shaped bill to stab or grab its prey. This is our tallest wader. As it is not a fussy predator, it will eat any fish and also ducklings and frogs. Where do you think a heron nests? (It nests here together with other herons high up in the trees in a noisy colony.)
We can all work together to help water creatures by not dropping litter which could enter waterways.
Activity: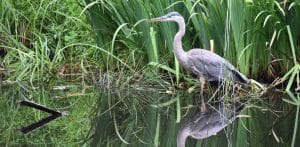 "I spy Wildlife" Find a quiet place to sit, use your senses and write down or draw what you experience. Click here for more Wild Challenges.
Sit down near the pond and enjoy the world around you using your senses. Can you see any birds or minibeasts nearby?
Does the air feel different near the pond? What can you reach out and touch nearby? Describe the textures around you (smooth, soft, rough, prickly). Sniff the air? What can you smell?
Water mint is a native plant, that grows in damp places, near water. It is a vigorous grower providing shelter and food for wildlife. The pink flowers appear from July to October and are very attractive to butterflies and beetles and the leaves are very tasty to caterpillars. We use mint leaves to flavour our food and drinks. Can you smell the scent of water mint or of any other flowers?
Close your eyes and both of your fists and listen. Every time you hear a sound, raise one finger or thumb. Which animals did you hear?
Why Study At Stranmillis?
Must Visit Destination
Belfast is one of the Top 10 cities on the rise (Lonely Planet), top 12 world travel destinations (Frommer's).
Student Retention
High student retention rates at >95%.
Student Satisfaction
Stranmillis is ranked first in Northern Ireland for student satisfaction.
A network of partners
The College has a network of over 750 school, education and insight placement partners.
Global community
The campus attracts students and staff from over 30 partner universities worldwide.
Large selection of rooms
Choose from single standard or single en-suite.
Security
With 24 hour residential support and security you're always safe.
Budget friendly prices
Great prices from only £115 per week.