Stop 13: Nuts, Glorious Nuts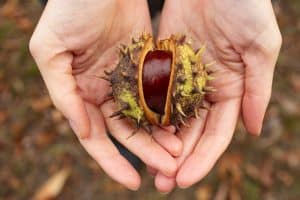 Do you remember at the start when we said that our wildlife prefers to live in native trees that have grown in Ireland for thousands of years, as these trees provide more food than non-native trees like beech and sycamore? Can anyone remember approximately how many different species of wildlife could live in an oak tree? (Up to 2,300 species including 38 bird species). Try to plant native trees like oak and rowan which provide homes for larger numbers of minibeasts than non-native trees like beech and sycamore.  Some of these minibeasts will become protein-rich meals for hungry chicks in the spring and summer months.
Activity:
Birds like this colourful Jay collect nuts and seeds from trees and bury them underground in stores as food for the cold winter months. Sometimes they forget where they have buried a seed and it grows into a new tree.
Can you find the seed of a tree on the ground?  If you look nearby, you can perhaps find out which tree it fell from. How does the seed you found disperse (travel away) from the parent tree so that it has more space and light to germinate and start to grow successfully?  Does it blow in the wind, stick to a mammal's fur, bounce or parachute? Can you spot any new trees already growing nearby the parent trees?
Planting for Wildlife
Take a seed home and have a go growing your own tree or wildflower. https://www.rspb.org.uk/fun-and-learning/for-teachers/schools-wild-challenge/activities/planting-for-wildlife/
Why Study At Stranmillis?
Must Visit Destination
Belfast is one of the Top 10 cities on the rise (Lonely Planet), top 12 world travel destinations (Frommer's).
Student Retention
High student retention rates at >95%.
Student Satisfaction
Stranmillis is ranked first in Northern Ireland for student satisfaction.
A network of partners
The College has a network of over 750 school, education and insight placement partners.
Global community
The campus attracts students and staff from over 30 partner universities worldwide.
Large selection of rooms
Choose from single standard or single en-suite.
Security
With 24 hour residential support and security you're always safe.
Budget friendly prices
Great prices from only £115 per week.