20th April, 2019
New Play by Michael Ievers
Belfast in the 1970s – remember the colours, the music, the flares…. the Troubles.
'The Professor and The Factory' is the latest play from Stranmillis University College lecturer and national award-winning playwright, Dr. Michael Ievers. The premiere will be staged at the Sean Hollywood Arts Centre in Newry on the 17th May, before the run continues at the Black Box in Belfast's Cathedral Quarter on the 24th and 25th June and at Studio 1A as part of the Open House Arts Festival in Bangor on the 9th August.
Commissioned by Marble Productions, this is Michael's third play, and the cast includes not only the renowned political journalist and actor, Ivan Little, but no less than four Stranmillis alumni, in Dawn Murphie, Adam Baird, Michael McCandless and Jason Nugent. After the play's performance Ivan Little is interviewed about his new book, 'Reporting The Troubles.'
'The Professor and The Factory,' transports you back to Belfast in the 1970s, and to a moment in time when the 'weemin' had their say. It's based upon a true story about the fortunes of a failing shirt factory so transformed by the arrival of a professor from Queen's University that during the Ulster Workers' Council strike of 1974, the women of the shirt factory repeatedly breached the barricades to keep the factory going. This is the story of these women.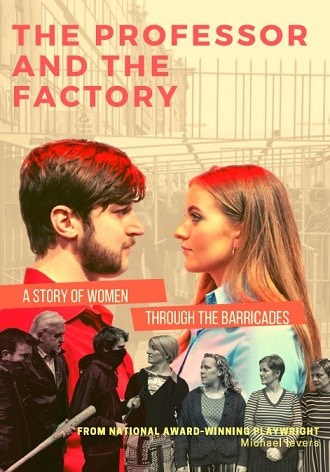 Reasons to study at Stranmillis
Student Satisfaction
Ranked No.1 for satisfaction in Northern Ireland.
Work-based placements
100% of our undergraduate students undertake an extensive programme of work-based placements.
study abroad
32% of our students enjoy a study abroad experience.
student success
We are proud to have a 95% student success rate.