14th May, 2021
Report: Loyalist and Republican Perspectives on Educational Underachievement in Northern Ireland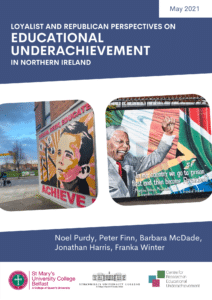 This small-scale pilot project, conducted in collaboration with St. Mary's University College, owes its origins to an informal conversation held between its Principal Investigator and the facilitator of a group of loyalist community activists including former prisoners. During the discussion, the facilitator made it clear that the members of his group felt strongly about issues of educational underachievement and would welcome a conversation about the challenges faced by the loyalist community and how those difficulties might best be addressed. An invitation was issued to come and meet the members of the group. During the ensuing meeting, it soon became clear that this group felt strongly that theirs was a story that needed to be told and that this was one of educational disadvantage which, they felt, was not being heard or listened to by government. Consequently, they believed, the educational achievement gap, which they fully acknowledged, between the working-class Protestant community and the respective working-class Catholic community was destined to continue and to widen still further.
Struck by the eagerness of the members of this loyalist group to talk and to seek to redress the imbalance of their community's educational outcomes, a project design was drawn up to explore individuals' educational journeys, and to consider how they felt educational underachievement could best be addressed. Increasingly, however, it became clear that there was a need to include the "other" story too, the story of working-class republicans, including former republican political prisoners, to provide perspective on the loyalist concerns, but also as a story of immense interest in its own right.
Over twenty years since the signing of the Belfast Agreement, the Troubles continue to cast a shadow over communities in many different respects. Cycles of disadvantage and poverty within the communities most affected by the conflict are reflected in low levels of educational achievement, high unemployment, entrenched criminality and continued paramilitary activity. This small-scale pilot study, conducted in autumn 2020, examines the links between educational underachievement and social disadvantage in the context of Northern Ireland's loyalist and republican communities. It draws on focus groups involving loyalist community activists (including former prisoners) and members of Coiste Na nlarchimí, a coordinating body for groups and projects providing services to republican ex-prisoners and their families.
Using a Bourdieusian theoretical framework, the report unpacks the salient points of similarity and difference in the reported educational experiences of loyalist and republican interviewees, and in their perspectives on how best to address educational underachievement within their communities. In doing so, it provides a basis for further work to understand the educational experiences and perspectives of loyalist and republican activists, as well as young people most at risk of involvement in paramilitarism. Such work is vital if our society is to unleash the transformative 'liberating force of education' to create a truly equitable education system to benefit all our children and young people within a more peaceful and prosperous society.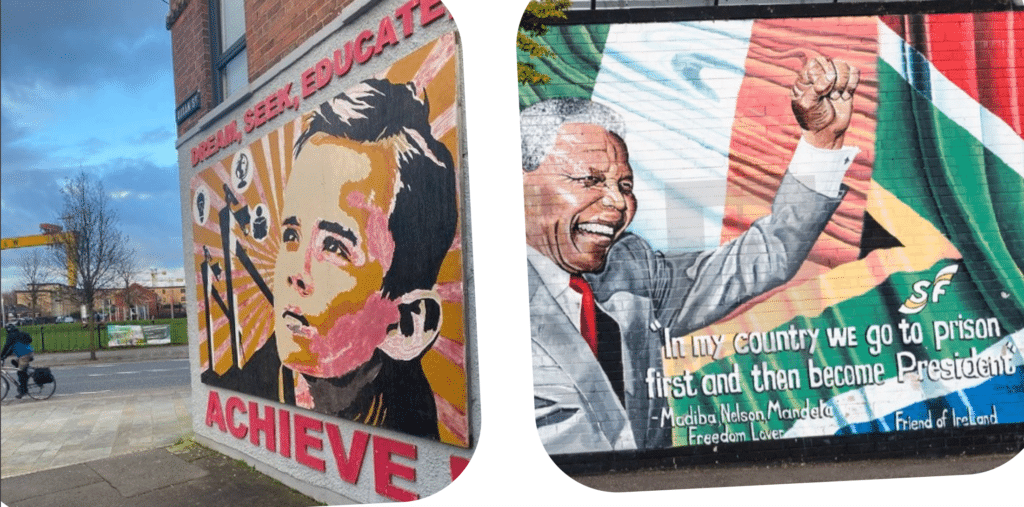 Loyalist and Republican Similarities and Differences
Despite obvious differences of political allegiance between the loyalist and republican focus group participants, there emerged some striking convergences of childhood educational experience within the respective working-class communities. There was a strong sense in which, as children, their opportunities were severely limited. Most grew up in families where education was valued, and there were several examples recounted of inspirational parents whose lack of formal educational qualifications did not limit their practical intelligence or readiness to engage in often political discussion and debate. Participants recognised that access to grammar schools was a pathway to academic success leading to enhanced job prospects, but most never contemplated such an educational pathway and knew few if any other children from their communities who had passed the 11+.
Nonetheless, significant differences began to emerge when discussion turned to the value and purpose of education at that time. Several of the loyalist participants spoke of how employment opportunities in Belfast's heavy industry sector depended on family or community connections, rather than educational qualifications. The republican experience was markedly different, as forced displacement during the early years of the Troubles and greater involvement in street protests led to a much stronger identification with political struggle. A further significant distinction emerged in how education was perceived in prison by the respective groups. While the loyalist former prisoners spoke of their realisation of the value of education and of their engagement with Open University courses (e.g. Maths), these were on an individual level, and were unrelated to the external circumstances of the Troubles. For the republican prisoners, by contrast, education played a key role in developing greater cultural awareness and identity, but also provided an opportunity to instil political principles (including radical socialism) and to prepare for a longer republican political struggle following release from prison.
Addressing current challenges
Discussions around the current challenges of addressing educational underachievement again raised many similarities of perspective, with both groups speaking of the importance of a relevant, engaging curriculum which aimed to prepare children and young people for employment but also to develop a broader set of skills for life within broader society. Both groups agreed the need to abolish academic selection and transfer tests, which were universally seen to favour middle-class children and discriminate against children from their working-class loyalist and republican communities. Both groups were also clear that the problem of educational underachievement in their communities was complex and would require a range of solutions at different levels, including tackling poverty, housing and hunger, the problem of drugs (mentioned solely by loyalists), investing in early years provision in their communities and developing more extensive opportunities for community education and life-long learning. Both groups felt that there was a need for stronger links between schools and families/communities, but this seemed to be most acute among the loyalist participants, who spoke of a general disconnect between schools in their areas and the surrounding community.
This feeling of disconnection fed into an overriding impression from the loyalist participants of marginalisation, disenfranchisement and abandonment by the education system, the churches and mainstream Unionist political leaders. Participants spoke repeatedly of "closed shops", "closed doors" and a lack of opportunity to exert a positive influence on children and young people's educational futures, despite their best efforts. In contrast, the former republican prisoners enjoyed greater levels of acceptability within their own communities, easier access to schools, and a clear line of communication to political leaders, many of whom had similar life experiences to themselves as former prisoners or relatives of former prisoners.
The report ends by asking the following questions:
How do we, as a society, address effectively the underlying causes of educational underachievement (e.g. income poverty, unemployment, poor housing, hunger), exacerbated by the current pandemic and within a resulting context of financial constraints?
How do we create a more equitable education system in which no child is disadvantaged as a result of their social background?
How do we address the increasing political, social and educational marginalisation of the loyalist working-class community?
Reasons to study at Stranmillis
Student Satisfaction
Ranked No.1 for satisfaction in Northern Ireland.
Work-based placements
100% of our undergraduate students undertake an extensive programme of work-based placements.
study abroad
32% of our students enjoy a study abroad experience.
student success
We are proud to have a 95% student success rate.