9th June, 2023
Transfer Talk! Share your experiences of school transfer without tests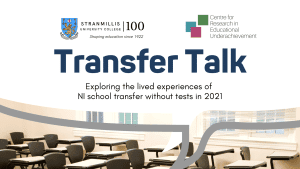 Would you like to share your experiences of school transfer without tests in 2021?
Stranmillis University College and the Centre for Research in Educational Underachievement (CREU) would like to hear about the experiences of school pupils and parents of school pupils who were in P7  when transfer tests were cancelled due to Covid-19.
This research project is entitled Transfer Talk: Exploring the lived experiences of NI school transfer without tests in 2021, and has been funded by the Office of the Mental Health Champion for Northern Ireland, a follow up to our recent Nuffield-funded project entitled "Testing Times".
To gather your views, we have created two online surveys.
If you are the parent of a pupil who was P7 in 2020/2021, please click here.
If you are a pupil who was P7 in 2020/2021 please click here to access the survey for you
When you enter the survey you will find more information on the research.
Surveys close at midnight on Friday 30th June 2023.
If you have any questions, you can email the lead researcher Prof Noel Purdy (n.purdy@stran.ac.uk).
Reasons to study at Stranmillis
Student Satisfaction
Stranmillis is ranked first in Northern Ireland for student satisfaction.
Work-based placements
100% of our undergraduate students undertake an extensive programme of work-based placements.
Study Abroad
All students have the opportunity to spend time studying abroad.
Student Success
We are proud to have a 96% student success rate.