Realise Your Potential
There's more than one route to a university degree in Northern Ireland.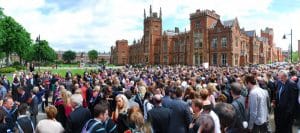 Stranmillis University College has established partnerships with all of the six regional further education colleges in Northern Ireland, where you can study a foundation degree or higher education qualification and then progress to complete your degree at Stranmillis or enter full-time employment.
Foundation and Part-time Degrees
Stranmillis University College offers two year foundation degrees in Early Childhood Studies  and Health, Physical Activities and Sport. We also offer a four year part-time BA degree in Early Childhood Studies. Typically, our foundation degrees allow students who successfully complete the course to enter Year 2  of the relevant degree programme at Stranmillis University College.
Regional Further Education Colleges
To find out more about the regional colleges and the range of courses on offer, click on the relevant college below.