31st March, 2020
Accessing SEN support in mainstream schools – new research report reveals significant challenges for parents/carers and children
This week, the Northern Ireland Commissioner for Children and Young People (NICCY) published a suite of reports exploring issues preventing children and young people from fully realising their rights to an effective education in the context of SEN provision in mainstream schools.
As part of this comprehensive review, a team at Stranmillis University College led by Director of Research and Scholarship, Dr Noel Purdy, conducted an extensive survey into the views of parents and carers about their experiences of accessing or attempting to access services and support for SEN for them and their children.
Some of the findings published today are that:
Only 1 in 8 respondents felt that there were adequate facilities and services in place to meet the needs of all children and young people with SEN
Only 1 in 6 respondents felt that all children with SEN have equal access to services without discrimination of any kind.
Less than 1 in 5 believed that the SEN process is child-centred, while a similar proportion felt that the education environment is adaptable in order to meet the needs of children with SEN.
Only 1 in 7 felt that children and young people with SEN receive a quality service which meets their needs, and the same proportion of parents felt that the views of children with SEN are sought and taken into account in their education and development of policy and services.
Only 1 in 10 agreed that there is timely and appropriate cooperation and integration of services to ensure a holistic approach is taken to meet the needs of children with SEN
The comprehensive report includes a review of the policy context, the methodology for this element of the wider NICCY review, detailed analysis of the online survey responses completed by 608 parents and carers, thematic analysis of the 10 focus group interviews conducted in each of the EA regions including the digital summary representation of a post-it note exercise, and excerpts from 6 further in-depth individual interviews with a range of parents and carers.
The full report conducted by Stranmillis University College and the Centre for Research in Educational Underachievement, entitled Too Little, Too Late: The views of parents/carers on their child's experiences of the Special Educational Needs (SEN) process in mainstream schools, can be downloaded now along with the full suite of 'Too Little, Too Late' reports, from NICCY's website here: www.niccy.org/senreviewreports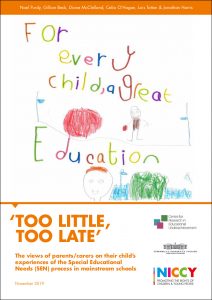 Reasons to study at Stranmillis
Student Satisfaction
Stranmillis is ranked first in Northern Ireland for student satisfaction.
Work-based placements
100% of our undergraduate students undertake an extensive programme of work-based placements.
Study Abroad
All students have the opportunity to spend time studying abroad.
Student Success
We are proud to have a 96% student success rate.