18th October, 2021
Harry and Hannah
I work as leader in a Preschool setting and decided three years ago to apply for a part-time place on the BA Hons Early Childhood Studies course at Stranmillis, studying between September 2018 and June 2021.  The course has been invaluable for me, contributing enormously to my development as an early childhood professional.   Being back at Stranmillis as a student had a particular significance for me personally, given the campus' familiarity from my own childhood when my very dear, late dad, Dr Harry Grindle, was a member of staff.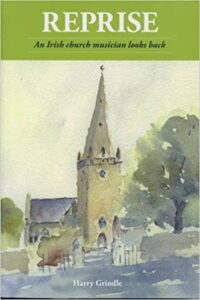 Lecturing in the Music Department between 1975 and 1998, dad also organised lots of musical events and concerts involving students and staff, and led trips to the Edinburgh Festival.  As part of the College's 75th Anniversary Celebrations he and a colleague organised a primary school choir competition, helped by the music students.  He thoroughly enjoyed his time as a member of the academic staff at Stranmillis, often referring to the very high calibre of students at the college.  His autobiography, 'Reprise', features memories from his time at Stranmillis and includes a photograph of him in action, rehearsing the choir (photo is credited to 'Stran' by George Beale and Eamon Phoenix).
Despite my own higher education and early employment taking a different path (I trained as a Bilingual Secretary at the College of Business Studies before working as a medical secretary), dad always held out hope that I might some day study at Stranmillis!  My own time here (albeit partially 'virtual' during the pandemic) has been particularly special for me, given my childhood memories of running through the 'cloister' area outside the music department and even being allowed to press the button to open and close the blinds in one of the empty lecture theatres!  Although I'm sad that he is no longer with us to see me 'graduate' finally, I have a sense that he would be pleased that I eventually got here!
REASONS TO STUDY AT STRANMILLIS
Student Satisfaction
Stranmillis is ranked 1st in Northern Ireland, and 6th in the UK, for student satisfaction (NSS 2020).
Work-based placements
100% of our undergraduate students undertake an extensive programme of work-based placements.
Employability
Our graduates are highly sought after, with 97% in employment or further study fifteen months after graduation.
study abroad
A third of our students take up the opportunity to spend time studying abroad.
Academic staff
71% of our academic teaching staff are qualified to doctoral level.
Student success
We are proud to have a 95% student success rate.
Academic standards
The UK Quality Assurance Agency reports the highest level of confidence in academic standards.
Network of partners
The College has a network of over 750 school, education and alternative placement partners.