24th November, 2020
How to change a dream into answering a call….
With the support of my husband, Stephen, I left my advertising job in 1993 and started Stranmillis majoring in English Literature.
Four years later,  I graduated with a first class Honours degree, three awards and a little girl called Ashley.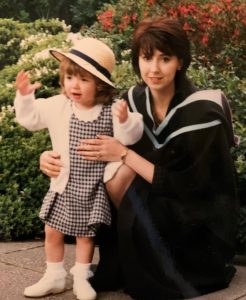 I found it very difficult to get a permanent job, so I subbed for years in many schools around Belfast.  I returned to my studies a couple of years later to do a Master of Arts in Arts in the Community and Stran. I graduated with a distinction.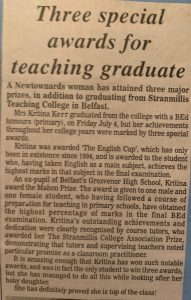 I was invited back as a part time lecturer, to the English department at Stranmillis, within a few years of graduating.  I have worked in many, many schools.  I even returned to my old school, Grosvenor Grammar, where I work in the English Department and directed senior and junior productions.
I have been teaching in Cavehill Primary School, for 19 years. As the Literacy Coordinator and librarian,  I am known simply as 'the book lady'. Although I have been living with ME for years, I still love teaching in Cavehill and being part of the community in North Belfast.
Without the support of Dr Peter Frost and Dr Patterson from Stranmillis;  my mentors, my champions and my friends, my 25 year career would not have been launched with such love, support and reassurance.  I will always be thankful that Dr Patterson saw something in me that I never knew was there.  That's what great teachers and friends do. Kritina Kerr LinkedIN Profile
REASONS TO STUDY AT STRANMILLIS
Student Satisfaction
Stranmillis is ranked 1st in Northern Ireland, and 6th in the UK, for student satisfaction (NSS 2020).
Work-based placements
100% of our undergraduate students undertake an extensive programme of work-based placements.
Employability
Our graduates are highly sought after, with 97% in employment or further study fifteen months after graduation.
study abroad
A third of our students take up the opportunity to spend time studying abroad.
Academic staff
71% of our academic teaching staff are qualified to doctoral level.
Student success
We are proud to have a 95% student success rate.
Academic standards
The UK Quality Assurance Agency reports the highest level of confidence in academic standards.
Network of partners
The College has a network of over 750 school, education and alternative placement partners.