5th January, 2021
Stranmillis shone out….
I always wanted to be a teacher and Stranmillis was the one that shone out when teaching was discussed when I was at school. The reputation it has as part of Queens University Belfast meant that really was a simple choice. I wanted to be a teacher? Then I had to attend Stranmillis. My name is Jason Arbuckle and I studied History at Stranmillis College from 1991 to 1995.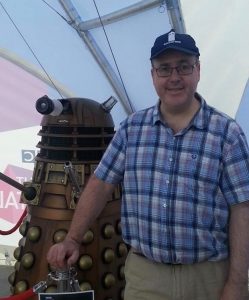 The most enjoyable thing about my course was the heartfelt and sometimes intense discussions we had throughout my time that History always throws up – whether we were discussing early Christian Ireland under Dr Beale; arguing over what to do with Auschwitz with Miss Magowan or agreeing to disagree about the Irish Question under Dr Phoenix – we always left the room as friends and some have become lifelong friends.
The best thing about the campus was definitely the openness and camaraderie between the students. During Teaching Practice everyone supported each other – you need a visual aid? I'll draw it…you need an idea of how to develop the topic of the Titanic I have a scheme from last year…you don't understand that essay you were given? Here let me explain it. Honesty and integrity between staff and students was second to none. The commitment Dr Phoenix had as my dissertation tutor was astounding. He read. Re-read and re-read again and again the whole thing…time and time he would come up with brilliant suggestions that were so simple but also insightful and set it going again in another direction. Invaluable.
On leaving Stranmillis I taught in Bangor in Rathmore Primary School for 15 years – teaching P7, P6 and P4. I was always the one that if the principal needed a teacher in a different year group I was up for the challenge. For three years during this time I was seconded to SEELB as Assistant Adviser for ICT where I worked with over 200 primary schools across the country – creating a uniformity of direction and purpose that still holds true in ICT today. In 2012 I tackled my next challenge as teaching principal of Kirkistown Primary School on the Ards Peninsula. Again teaching a plethora of classes. I found myself back at Stranmillis helping to interview the future teachers of the country which was lovely to do from the other side of the desk for a change.
In November 2017 I started work at the Education Authority in Antrim supporting the Shared Education Signature Project. Again I found myself on the road and supporting a multitude of schools and in August 2019 I moved across to the CASE Shared Education programme where I still am to this day. Working with schools from Portstewart to Larne; from Moira to Cookstown has been an absolute pleasure. I recently added a further string to my bow when I was appointed one of the EA Mental Health First Aiders and have been involved in setting up online cohorts for supporting the emotional health and wellbeing of staff. I am a staunch supporter of our principals and teachers and the incredible job they continue to do under such challenging circumstances. Jason Arbuckle LinkedIN Profile
REASONS TO STUDY AT STRANMILLIS
Student Satisfaction
Stranmillis is ranked 1st in Northern Ireland, and 6th in the UK, for student satisfaction (NSS 2020).
Work-based placements
100% of our undergraduate students undertake an extensive programme of work-based placements.
Employability
Our graduates are highly sought after, with 97% in employment or further study fifteen months after graduation.
study abroad
A third of our students take up the opportunity to spend time studying abroad.
Academic staff
71% of our academic teaching staff are qualified to doctoral level.
Student success
We are proud to have a 95% student success rate.
Academic standards
The UK Quality Assurance Agency reports the highest level of confidence in academic standards.
Network of partners
The College has a network of over 750 school, education and alternative placement partners.