10th January, 2022
Susan Honoured with MBE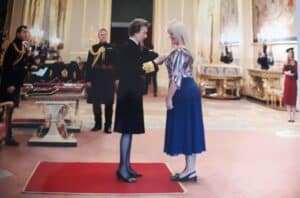 Our congratulations to Early Childhood Studies graduate, Susan Jones, who has been awarded an MBE. Susan received her Honour from Princess Anne, the Princess Royal, at a ceremony in Windsor Castle in November in recognition of her services to Pre-School Education and Integrated Education in Primary Schools in Northern Ireland.
Susan was part of the first cohort of students to undertake the 'new' BA (Hons) Early Childhood Studies degree at Stranmillis, graduating in 2000. Susan then completed the PGCE (Early Years) at Stranmillis and, since then, has taught in several primary schools and is currently Head of Nursery Education at Fort Hill Integrated Primary School, Lisburn.  Commenting on her Award, Susan said:
"I am very humbled to have received this amazing honour. It is a celebration of Early Years education, and of everyone who was involved with the vision of developing the ECS degree".
"Our ECS graduates' accomplishments never cease to amaze me!" says Sheelagh Carville, Head of Early Childhood Studies at Stranmillis. "Susan is the epitome of professionalism. The ECS team are proud that they can claim some small part in all of the wonderful achievements in her career."
REASONS TO STUDY AT STRANMILLIS
Student Satisfaction
Stranmillis is ranked 1st in Northern Ireland, and 6th in the UK, for student satisfaction (NSS 2020).
Work-based placements
100% of our undergraduate students undertake an extensive programme of work-based placements.
Employability
Our graduates are highly sought after, with 97% in employment or further study fifteen months after graduation.
study abroad
A third of our students take up the opportunity to spend time studying abroad.
Academic staff
71% of our academic teaching staff are qualified to doctoral level.
Student success
We are proud to have a 95% student success rate.
Academic standards
The UK Quality Assurance Agency reports the highest level of confidence in academic standards.
Network of partners
The College has a network of over 750 school, education and alternative placement partners.