25th January, 2022
Beyond the Stereotype – New Research Explores Views of Educational Success and Underachievement in Controlled Schools
A significant new research report into educational underachievement in controlled schools – commissioned and funded by the Transferor Representatives' Council – has been launched by Stranmillis University College.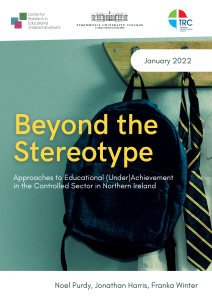 Beyond the Stereotype is based on group interviews with principals, teachers and pupils in eight primary and post-primary schools in suburban, town and rural areas, and also with school governors and other leaders in those communities.  The study aims to go 'beyond the stereotype' of the well-documented challenge of underachievement among Protestant working class boys in inner-city areas, and to 'cast the net wider' to provide a broader and more representative picture.  It raises important questions about the purpose of education and how we measure success.
The study finds that while pupils view educational achievement as largely related to success in external exams (such as GCSEs and A-levels), many school and community leaders (including employers) place greater value on a wider range of skills and abilities, and pupils' mental and physical health, self-confidence, happiness and willingness to learn.
Particular challenges in rural communities, which have not been reported extensively to date in previous studies, are identified with some school leaders speaking of the difficulty in motivating boys to work hard towards GCSEs.  Disadvantage across generations and a lack of educational aspiration, often associated with inner-city working-class contexts, are also reportedly strong features of many rural communities.
Beyond the Stereotype also finds that schools lack support in terms of sourcing standardised tests for pupils, which are bought in from private companies in the absence of government-funded tests.  A resulting variety of approaches in testing at primary level mean that post-primary schools often test pupils within their first few days at their new school; this, in turn, adds to an impression among pupils that post-primary education is about tests and scores.
School leaders are doing "sterling work" in keeping education going throughout the pandemic with one positive consequence of this crisis being that "schools and families are often now better connected than ever before" due to the increased use of remote technology.
Many community leaders speak of their passion for supporting schools and helping local children to succeed.  A range of perspectives – supportive and critical – on the role of Protestant Churches in education is heard; the study affirms that where school leaders are open to church involvement (which cannot be assumed) and where a local church engages meaningfully, tangibly and unconditionally in its local school, "there is enormous potential to improve educational outcomes."
Reasons to study at Stranmillis
Student Satisfaction
Stranmillis is ranked first in Northern Ireland for student satisfaction.
Work-based placements
100% of our undergraduate students undertake an extensive programme of work-based placements.
Study Abroad
All students have the opportunity to spend time studying abroad.
Student Success
We are proud to have a 96% student success rate.