After re-reading Barry Hines' 1968 novel 'Kestrel for a Knave' with his son, in this new blog post, CREU Director Dr Noel Purdy reflects on some of the lessons from this gritty classic for understanding educational disadvantage.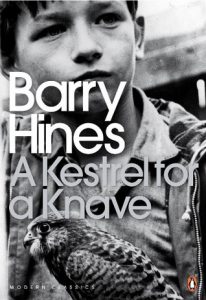 Recently I have been re-reading Barry Hines' 1968 novel Kestrel for a Knave with my twelve-year-old son.  For those who aren't familiar with it, it's the story of Billy Casper, a young working-class boy from Barnsley who finds and trains a kestrel (Kes). Adapted into the film Kes directed by Ken Loach the following year, both the novel and the film have developed an international fan base that extends far beyond its setting in Yorkshire, with the novel featuring on many GCSE English literature specifications over the years, and clips from the film now appearing regularly on social media channels. The enduring appeal of the story can be seen in a heart-warming 2019 BBC documentary by comedian (and former English teacher) Greg Davies and by the recent unveiling of a statue of 'Billy' in Barnsley by Dai Bradley (who played him in the 1969 film) in memory of Barry Hines who died in 2016.
The story itself is dark, gritty, unforgiving in its portrayal of a troubled family in a working-class mining community where prospects are limited, aspirations low and discipline harsh by today's standards.  It is a world of cold, curtainless houses, fish and chip shops, betting shops, coal mines and violence.  The portrayal of school is also overwhelmingly negative.  We see an uncompromising disciplinary regime enforced by corporal punishment and exercised without conscience by the soulless headmaster Mr Gryce (an innocent messenger boy is caned by Gryce and is physically sick as a result); where teachers are portrayed as largely humourless (after calling out the name 'Fisher' as part of the class roll call, Mr Crossley fails to appreciate Billy shouting out 'German Bight' which caused him to make a mistake on the roll book); and where physical and verbal bullying are rife, meted out by both pupils and teachers.  Billy is bullied by his older brother Jud as well as other boys in school and there is little that Billy's struggling mother at home or teachers at school are able or willing to do to stop it.  In a flashback near the end of the novel, we learn that Billy's father had left home, having discovered his wife having an affair with 'Uncle Mick', meaning that Billy is also teased by other boys for coming from a single parent household and for his mother subsequently having other partners.  Even the humour of the football match scene where Mr Sugden, resplendent in his Bobby Charlton Manchester United strip, plays and cheats his way to victory, is bookended with cruelty as Billy is humiliated by being forced at the outset to wear oversized shorts that pull up to his neck, and is afterwards forced into freezing cold showers by Sugden who positions other boys to block his escape.  And of course, the story concludes with Jud killing Kes, Billy's pride and joy, as a thoughtless act of revenge for Billy failing to place a winning bet.  The book is a tough, disturbing read.
And yet, I couldn't help but search for some glimmers of hope in an otherwise joyless world of economic deprivation and low aspiration.  Aside from the new passion for life that Billy discovers through training the kestrel hawk, the only other glimmer of light I found is in the character of Mr Farthing, the sole teacher who seems to take any genuine personal interest in Billy, who gives him the opportunity to speak in front of his peers about training his hawk, and who goes to watch Billy fly Kes one lunchtime.  What we see here is the essence of pastoral care in education through the importance of relationship, the giving of opportunity to talk about his love of falconry, and the resulting sense of pride and mutual respect that emerge.  When Billy speaks in front of his classmates, he captivates them with his knowledge and passion, and he is able to spell out specific vocabulary without fault ("jesses", "swivel", "leash") that he has learned from devouring the book on falconry he stole from the local bookshop.  For me at least, this is my favourite scene of the whole novel and talks to themes of pupil engagement, curricular relevance and opportunities to achieve against the odds and even flourish.  Mr Farthing represents probably the only positive adult role model in Billy's life.
In terms of future prospects, Billy has few options.  His elder brother Jud has already gone down the local mine, but at his interview with the Youth Employment Officer Billy makes it clear that "I wouldn't be seen dead down t'pit".  In response he is told that "I've interviewed some lads in my time, but I've never met one like you.  Half the time you're like a cat on hot bricks, the other half you're not even listening." On the way out Billy is handed a pamphlet entitled 'Leaving School' whose cover page shows "a man in square glasses shaking hands across a desk with a strapping youth in blazer and flannels", representing a typically middle-class home counties stereotype, a million miles from Billy's world in Barnsley.
So what can we learn of any relevance to today from a 1960s novel set in a small Yorkshire mining community?  More than half a century later, it is clear that the current cost of living crisis, coming on the back of a global pandemic, threatens to plunge a new generation of children (including many children from working families) into severe economic hardship in the months ahead, exacerbating existing stark social inequalities and forcing many families to make difficult choices between heating and eating.  Hunger, cold and economic hardship are just as real today as they were in 1968, and are closely correlated to educational underachievement.
Second, there are clear moral warnings against the cruelty, brutality and injustice of this portrayal of 1960s schooling where lack of aspiration pervades both the classroom and the staffroom.  The headmaster, Gryce, dismisses the current generation of young people as having "no guts…no backbone…you've nothing to commend you whatsoever".  But there is also a chink of light through the example of Mr Farthing whose interest in Billy as an individual affirms the importance of relationship in education, and the possibilities afforded by engaging learners in curricular activities that have relevance to them.  Mr Farthing reminds us of the power of teachers to harness aspiration and instill self-confidence, even in times of economic hardship.
Finally, pastorally too, the story is significant.  As Dai Bradley said recently at the unveiling of the statue of Billy and Kes in Barnsley in November 2021, this short novel about a boy and his kestrel is known right across the world, and, importantly, "a lot of young people look towards Billy for support when they're having problems in their early life through bullying or problems at school".  For many, Billy represents hope and resilience, despite everything.
Others will know much more than me about gritty Yorkshire mining towns, and perhaps more about falconry too, but perhaps I could encourage you to re-read and rediscover (as I have done) the educational and social challenges of a much-loved story.