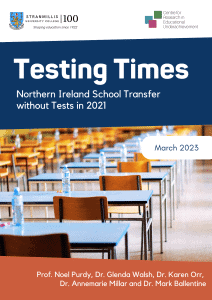 Testing Times – Northern Ireland Post-Primary School Transfer without Tests in 2021, a new research report from Stranmillis University College's Centre for Research in Educational Underachievement (CREU), examines some of the lessons from the 'non-testing' year of post-primary transfer in Northern Ireland, when AQE and GL tests were postponed and eventually cancelled as a result of Covid-19 public health concerns.
The issue of post-primary transfer by means of academic selection has been the focus of a highly polarised policy debate in Northern Ireland (as in other jurisdictions) for many years.  With the cancellation of transfer tests for P7 pupils in 2020-21, grammar schools were forced to develop a range of alternative admissions criteria, quite different from previous years.
This timely research project, funded by the Nuffield Foundation, seeks to capture the learning from this unique year, by examining the range of admissions criteria adopted by grammar schools, assessing the impact of these on the social and demographic background of pupils accepted into grammar and non-grammar schools, and evaluating the impact on the distance for pupils to travel, in comparison with previous years.
The study found that:
Grammar schools exercised their freedom to set their own admissions criteria in the non-testing year, prioritising having an older sibling already at the school; having already registered for the AQE/GL tests in that year; being the eldest/first/only child in the family; having a sibling who was previously enrolled at the school; and attending a listed feeder primary school.
Additional information provided to parents alongside the admissions criteria frequently highlighted grammar schools' commitment to academic selection as the principal method of entry to their school, and their intention to revert to academic selection in subsequent years. A majority also referred to fees payable.
Analysis of the (non-testing) 2021-22 year 8 grammar and non-grammar school cohorts compared to the previous year 2020-21 showed very minimal differences in terms of gender, newcomer children, level of deprivation, distance travelled to school, and the percentage of the cohort with Free School Meal Entitlement and Special Educational Needs (including with statements). Figures for ethnicity and children in care were too low to allow a comparison to be made.  System-level attainment data for the cohort were not available.
While there was little change in the demographic composition of the year 8 cohort transferring to post-primary schools in 2021-22, the data reveal very stark differences (consistent over the past four years, including the non-testing year) in the pupil cohorts entering year 8 in grammar schools when compared to non-grammar schools. Using the 2021-22 year 8 cohort by way of example, these differences relate to:

Free School Meals (grammar: 15.8% vs non-grammar: 39%)
Special Educational Needs (grammar: 5.6% vs non-grammar: 25.2%)
Newcomer children (grammar: 1.1% vs non-grammar: 5.8%).
Level of Deprivation (grammar school intakes are skewed towards the higher (less deprived) MDM deciles and non-grammar school intakes are skewed towards the lower (more deprived) MDM deciles, though important differences were noted by school management type).
Speaking about the report, Director of CREU and Principal Investigator of the research, Prof Noel Purdy, said "We hope that the findings presented in this report will help unlock the current policy paralysis around academic selection in Northern Ireland, and encourage fresh evidence-based discussion among all interested parties (politicians, policy-makers, school leaders, parents and children) around the future of post-primary transfer in Northern Ireland."
The full report, including executive summary, can be downloaded here.
An online event launching the report will take place 2.00-3.30pm GMT on 25th April 2023. You can register for this free event here.
NOTES