28th April, 2021
Educational Underachievement in Northern Ireland: Review of Research 2021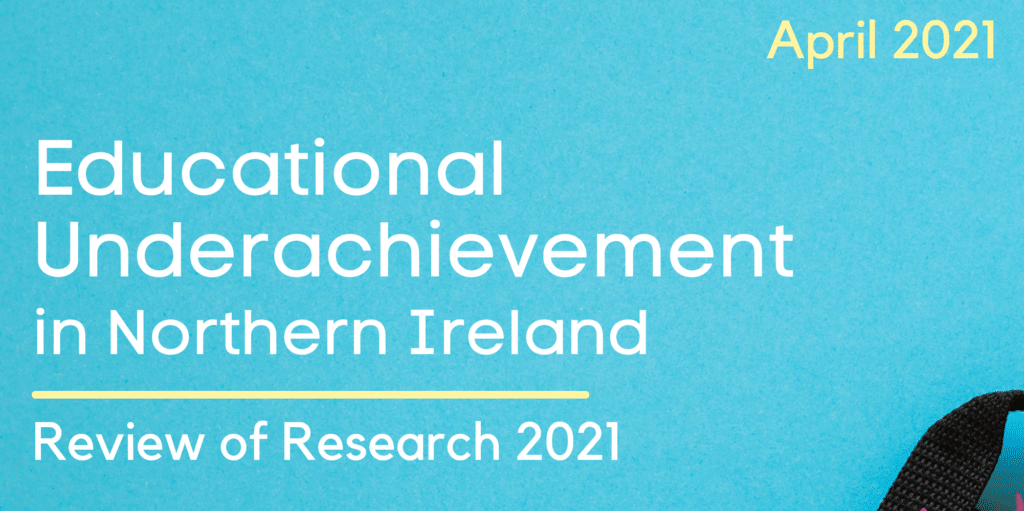 This updated review seeks to build on the Evidence Summary published by CREU in January 2020. In the year since then, the significant and complex challenge of educational underachievement has been thrown into fresh relief by the coronavirus pandemic. This updated review adds more recently published research in the field of Educational Underachievement in Northern Ireland, to provide an up-to-date account of the research literature. It also considers this evidence in the light of the upheaval caused by the pandemic in our education system through school closures, home learning, and exam cancellations.
The review includes 62 original research articles and reports in its qualitative synthesis, highlights core themes and gaps in the existing research evidence, and recommends several priorities for future research and policy in this area:
1.
The overall assessment that in Northern Ireland, socio-economic inequalities in education lead to wider disparities in educational achievement based on wealth and class remains unchanged since Gallagher and Smith's report in 2000. Since then, and despite policymakers' repeated calls for progress in this area, only one substantial academic research project (Leitch et al., 2017) has fully focused on educational underachievement.
2.
It appears to be widely accepted that boys underachieve in relation to girls, but little research has attempted to explain why this might be the case in Northern Ireland. More research in this area is needed to identify ways in which boys can be more equally served by the curriculum in place here.
3.
Several statistical analyses point to inequalities between and within religiously defined groups in Northern Ireland. However, no recent research has evaluated the impacts of faith-based education on educational attainment and inequality or the role of the churches in addressing educational underachievement.
4.
Further research on the fairness of assessments, whether related to academic selection or public examinations, must be prioritised post-pandemic. Two key foci should be a) how curricular choices can be widened and access/inclusion improved through the use of educational technologies, and b) what adaptations are needed following a year with no transfer test, and what changes to the transfer process could enable greater social mobility.
5.
The impacts of Covid-19 have been wide-ranging and will continue to affect children and young people well into the future. Research is urgently required both to help understand the pandemic's effects, and to rapidly identify and evaluate any new interventions introduced to mitigate these effects or to retain valuable elements of pandemic school practice, for instance around blended learning.
6.
Existing research and government monitoring of educational underachievement using GCSE and A-level attainment data skews our attention to post-primary education. However, there is a need for long-term evaluation of key policy interventions in Early Years introduced with the stated aim of raising attainment for disadvantaged children.
Click here to access the full report
On the 11th of May 2021 we held a webinar event to share the findings of the report and to stimulate discussion – you can catch up below:
Reasons to study at Stranmillis
Student Satisfaction
Ranked No.1 for satisfaction in Northern Ireland.
Work-based placements
100% of our undergraduate students undertake an extensive programme of work-based placements.
study abroad
32% of our students enjoy a study abroad experience.
student success
We are proud to have a 95% student success rate.