13th February, 2020
Imagining Children and Conflict: Learning from Comics and Picture Books in French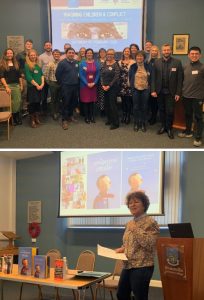 An international one-day conference – Imagining Children and Conflict: Learning from Comics and Picture Books in French – was held at Stranmillis on Saturday 1st February.
Organised by Dr Sharon Jones (Stranmillis University College) and Dr Manu Bragança (University College Dublin), the conference brought together representatives from education, the voluntary sector and the arts, and scholars and students from disciplines across the academy. It was a day that generated rich and searching conversations about conflict and the experiences of children, the role of the imagination, and the power of visual narratives.
Two superb keynote presentations were given on the transformative power of picture books relating to the Holocaust, by Professor Claire Gorrara, Dean of Research Environment and Culture and Professor of French Studies at Cardiff University, and by prizewinning French children's writer, Rachel Hausfater. Rachel read her beautiful picture book Le petit garçon étoile / The Little Boy Star,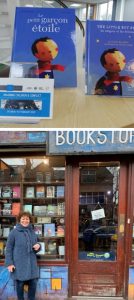 an allegory of the Holocaust, now available for borrowing in Stranmillis library. Rachel also paid a short visit to No Alibis bookshop to sign a copy of her book.
The conference saw a stimulating range of academic papers relating to: Children and War; Story and Peace-making; Contemporary Children's Lives; and Conflict and Migration. Excellent presentations were given by Stranmillis staff (Dr Noel Purdy, Dr Anita Gracie, Dr John McMullen and Dr Jonathan Harris), colleagues from QUB and St Mary's UC, the Republic of Ireland, England, and France.
It was a pleasure to welcome Christophe Fillère, Director of the INSPE Clermont-Auvergne at Le Puy en Velay, who gave a presentation on the role of children's literature in teaching the Shoah topic in French schools. He also referred to the history of Le Chambon-sur-Lignon, France, known for its hospitality to refugees, and the educational work of the Lieu de Mémoire in the village. Dr Sharon Jones visited Le Chambon last summer, and wrote about it in the Irish Times.
This rewarding one-day conference was generously supported by Language Acts and Worldmaking, a flagship project funded by the AHRC Open World Research Initiative that aims to regenerate and transform modern language learning by foregrounding language's power to shape how we live and make our worlds. The organisers are very grateful for this, and the support of Stranmillis University College and University College Dublin. Special thanks go also to Fiona Rea, Eden Carlsen, Claire Murphy and Gary McConkey who were student ambassadors at the event.
Reasons to study at Stranmillis
Student Satisfaction
Ranked No.1 for satisfaction in Northern Ireland.
Work-based placements
100% of our undergraduate students undertake an extensive programme of work-based placements.
study abroad
32% of our students enjoy a study abroad experience.
student success
We are proud to have a 95% student success rate.