12th September, 2022
Important information regarding the start of term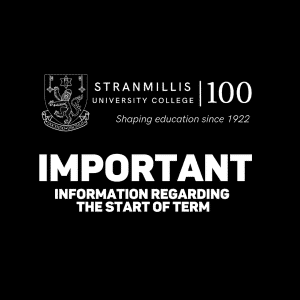 The new term at Stranmillis was due to commence on Monday 19th September. With the funeral of Her Majesty Queen Elizabeth II taking place on Monday, term will now commence on Tuesday 20th September. All new and returning students should note that:
'Moving in' for students staying in Stran Halls will take place on Sunday 18th September as previously advised, and Stran Halls will be operational as normal on Monday 19th September.
Teaching for all returning students will commence on Tuesday 20th September at 0900 hours.
Welcome and Orientation for all new students will take place on Tuesday 20th September, commencing at 0930 hours in the Drama Theatre, until approximately 1600 hours. It is essential that new students attend all sessions on Tuesday 20th September. Teaching for Year 1 students will commence on Wednesday 21st September.
We look forward to welcoming you next week.
Reasons to study at Stranmillis
Student Satisfaction
Ranked No.1 for satisfaction in Northern Ireland.
Work-based placements
100% of our undergraduate students undertake an extensive programme of work-based placements.
study abroad
32% of our students enjoy a study abroad experience.
student success
We are proud to have a 95% student success rate.