22nd May, 2023
Induction of new Governing Body Members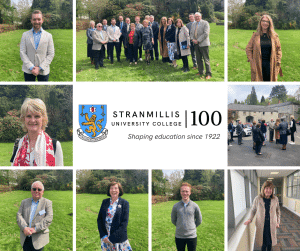 On 28th April 2023, the Department for the Economy announced the appointment of seven new members to the Board of Stranmillis University College.
Paula Leitch, Kim Scott, Robert Drennan, Aaron Diver, Una Nic Eoin, Wilma Fee and Sam Snodden have been appointed to serve as members from 1 April 2023 for a period of four years.  We are also expecting the appointment of Matthew Cupples as the new Student Representative on the Board from 1st June 2023.  All of our new members are wished every success as they embark on their roles.  Pen Portraits for all current members of the Governing Body can be accessed via the following link Pen Portraits.
On 3rd May 2023, they had an opportunity to visit the University College for an Induction event where they met with some of the existing members of the Board, a former member, Ken Nelson, and the Directors of the College.  They heard from the Chair about Governance and Accountability and Committee membership and the Principal and Directors provided an overview of the University College and its strategic direction, as well as the challenges and opportunities ahead.  This was followed by lunch and a tour of our fantastic campus.
Reasons to study at Stranmillis
Student Satisfaction
Stranmillis is ranked first in Northern Ireland for student satisfaction.
Work-based placements
100% of our undergraduate students undertake an extensive programme of work-based placements.
Study Abroad
All students have the opportunity to spend time studying abroad.
Student Success
We are proud to have a 96% student success rate.