12th February, 2021
Keep Loving it! Love the Daily Mile, Love Your Heart – at Home!
As Valentine's Day approaches, The Daily Mile Network NI and the Education Authority are urging you to 'Love The Daily Mile, Love Your Heart – at home'.
This time last year, Stranmillis University College invited over 100 children on to campus for a 'Love The Daily Mile – Love Your Heart' event, in association with British Heart Foundation Northern Ireland, the Education Authority, the British Psychological Society, and the Northern Ireland Science Festival.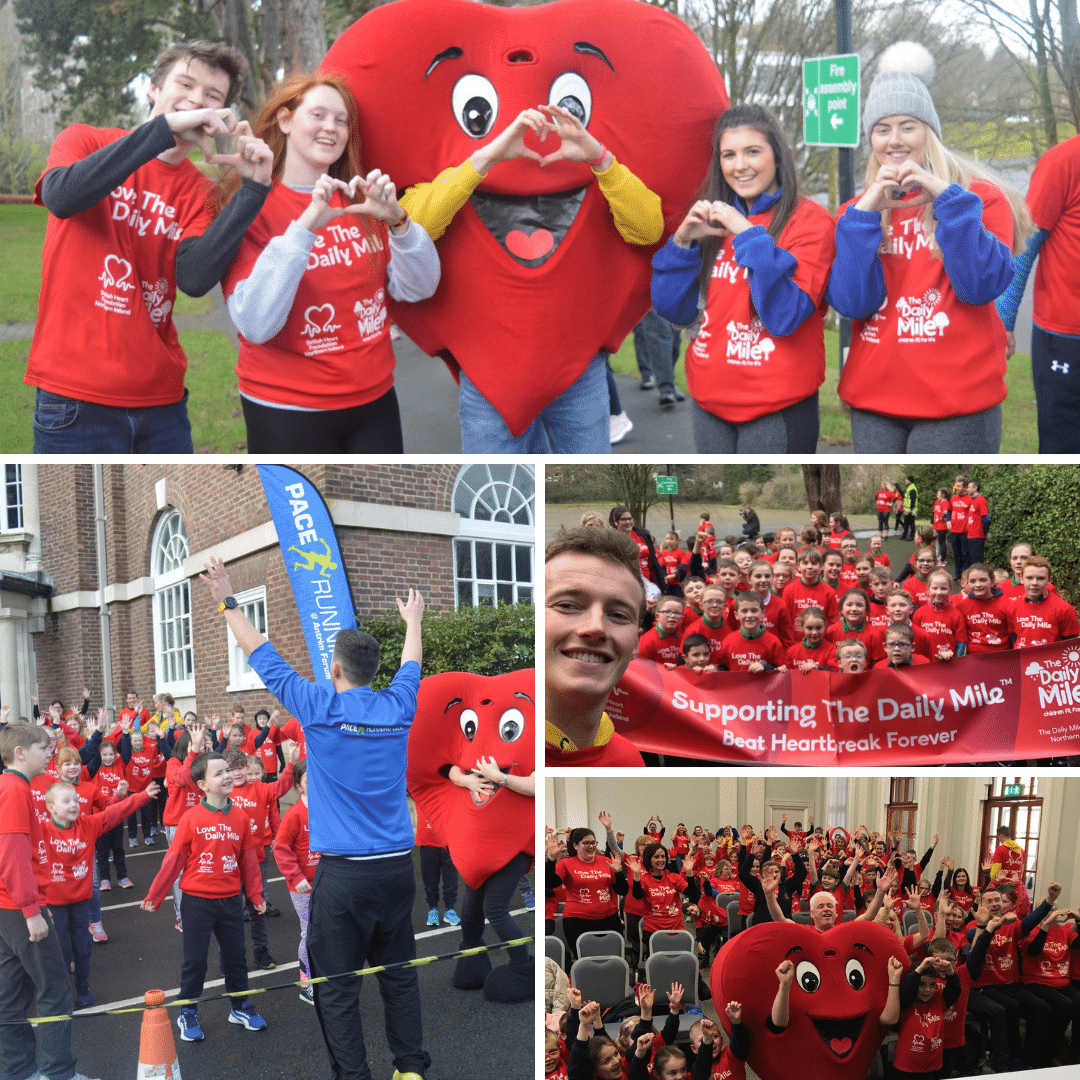 The Daily Mile initiative aims to improve the physical and mental health of our children by ensuring that every child runs or jogs for 15 minutes every day in their school.
And with many children learning remotely during Covid, co-chair of The Daily Mile Network NI and Stranmillis University College lecturer Dr Brenda McKay-Redmond is encouraging families to "Love The Daily Mile at home".
"A year ago at Stranmillis University College we launched The Daily Mile as part of the NI Science Festival. Over 300 schools in Northern Ireland have signed up and now that we are in a different context, we want to remind parents and carers that The Daily Mile isn't just for the school playground."
"Fifteen minutes of exercise, jogging or walking, whilst outside when it is safe to do so, can lead to everyone becoming happier, fitter and stronger. Self-esteem, wellbeing and satisfaction can also improve mental health, so let's keep our hearts and minds healthy by having fun, fitness and freedom in the fresh air, by continuing to love The Daily Mile at home."
Colin Reid, EA's Head of Safeguarding, Welfare and Inclusion, added: "The Daily Mile is a great initiative helping our children and young people stay fit both physically and emotionally. Regular exercise can have a profoundly positive impact on a child or young person's emotional health and wellbeing."
"And that goes for parents and carers too. Specifically, it can relieve stress, improve memory, help them sleep better, and improve their mood. In the current climate, looking after our emotional health and wellbeing has never been more important."
Head of BHF NI, Fearghal McKinney, added: "We're delighted to see so many schools signing up to The Daily Mile over the past year. Instilling the good habit of taking regular exercise as a child bodes well for people continuing to look after their heart health later in life.
"Our research shows that physical activity can help reduce the risk of developing heart and circulatory diseases. Although we are not in normal times, continuing to take part in The Daily Mile at home will be beneficial for the children and their parents. This is the perfect opportunity for parents to also make small changes to their lifestyle that could help make a big difference to their heart health."
You can watch last year's Valentine's Day launch of 'Love The Daily Mile: Love Your Heart' and hear from founder of the Daily Mile, Elaine Wyllie MBE, in a video from EA here: https://bit.ly/3cWAI30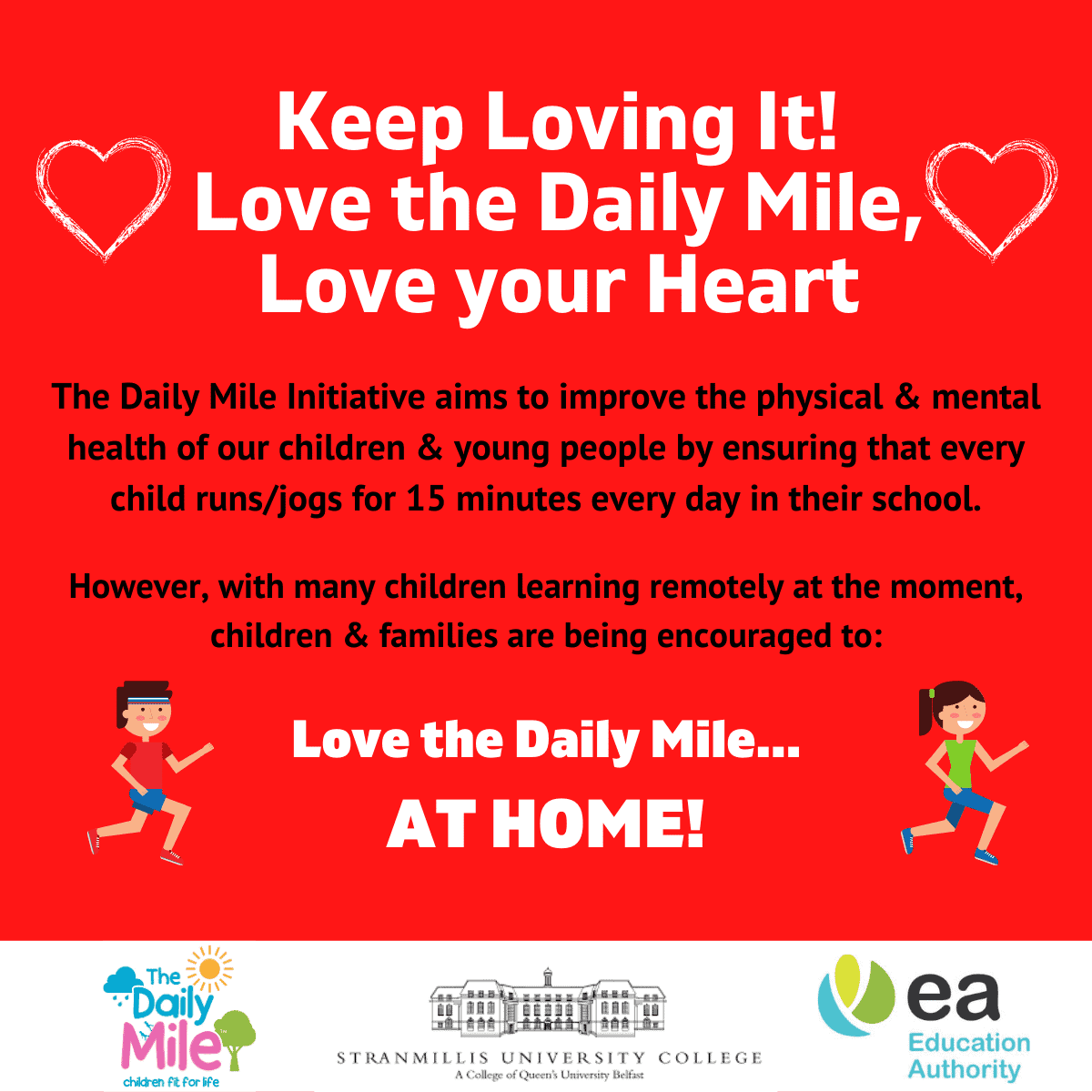 Reasons to study at Stranmillis
Student Satisfaction
Stranmillis is ranked first in Northern Ireland for student satisfaction.
Work-based placements
100% of our undergraduate students undertake an extensive programme of work-based placements.
Study Abroad
All students have the opportunity to spend time studying abroad.
Student Success
We are proud to have a 96% student success rate.