9th March, 2019
Making LINKS in Israel through peacebuilding in the Early Years
Jill Magennis, Stranmillis Lecturer in Early Years Education and PhD student in the Queen's School of Social Sciences, Education and Social Work, recently returned home from a study visit to Israel; she reflects on this visit below:
'I recently spent time in Israel in association with the Centre for Evidence and Social Innovation (CESI) and the LINKS network which is part of the international Early Childhood Peace Consortium (ECPC) in partnership with UNICEF, Yale, Harvard and New York University which seeks to support the development and evaluation of early childhood development (ECD) programmes in societies affected by conflict.
My PhD is associated with the LINKS network, led by the Centre for Evidence and Social Innovation under the direction of Professor Paul Connolly. LINKS currently works in six countries and is seeking to expand the network to include additional partner countries, including Israel.
My visit enabled me to continue data collection for my doctoral studies and I also had the opportunity to engage in the Bi-National Meeting: Israel and Northern Ireland, organised by Professor Margalit Ziv from Kaye Academic College of Education and Professor Dorit Aram from Tel Aviv University in partnership the MOFET Institute. This provided opportunities to discuss current research surrounding peacebuilding in early childhood in Israel and also learn more about the international work of LINKS shared by colleagues from Queen's University, Belfast: Professor Paul Connolly, Dr Sarah Millar, Dr Laura Dunne and Dr Nicole Craig. This was also in collaboration with Dr Siobhan Fitzpatrick (CEO) and Pauline Walmsley (Deputy CEO) from Early Years – the organisation for young children. The meetings explored possible opportunities in the future to work together to support the development of early childhood development (ECD) programmes that seek to contribute to peacebuilding in Israel. A number of similarities were identified between this work and various initiatives being undertaken through the LINKS partner countries.
Speaking of the visit, LINKS Director, Professor Paul Connolly said: "We have had a very productive and inspiring two days learning about the work currently being undertaken in relation to ECD for peacebuilding in Israel and sharing experiences and perspectives. The issues facing the early childhood sector in Israel are complex and challenging. We were impressed by the commitment of colleagues working in this context to promote inclusion and respect for diversity and to challenge prejudices and discrimination."
Thank you to Professor Connolly for his support in making this visit possible – I found it to be both productive and insightful as I continue my exploration into the experiences of educators in relation to promoting respect for diversity and ways forward for peacebuilding in conflict affected societies. My immediate priority is to complete my PhD. However, there are opportunities for me to continue and extend my research in this area with colleagues in Israel as part of my ongoing involvement in the LINKS network.
I would like to thanks my colleagues at Stranmillis, Dr Noel Purdy, Dr Patricia Eaton and Dr Glenda Walsh for their ongoing support with my studies and enabling me to make this visit possible to complete this phase of my doctoral studies. I look forward to sharing this work on peacebuilding with students across our PGCE, BA in Early Childhood Studies and BEd Primary in relation to PDMU, inclusion and cultural diversity.
"…to inspire others, we must continue to think of peace and know that peace is possible. What we dwell upon we help bring to manifestation. One little person giving all of her time to peace makes news. Many people giving some of their time can make history."  – The Peace Pilgrim
To find out more about CESI and the Links network, click on the links below:
Centre for Evidence and Social Innovation: https://www.qub.ac.uk/research-centres/cesi/
LINKS network: https://www.qub.ac.uk/sites/links/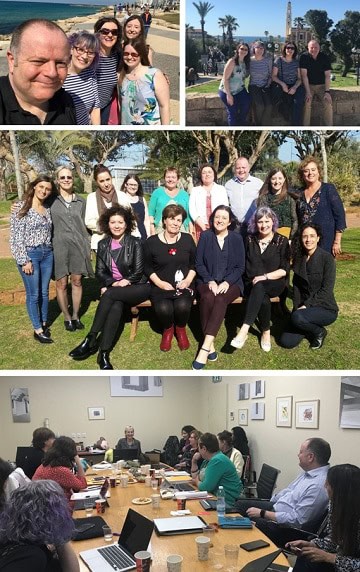 Reasons to study at Stranmillis
Student Satisfaction
Ranked No.1 for satisfaction in Northern Ireland.
Work-based placements
100% of our undergraduate students undertake an extensive programme of work-based placements.
study abroad
32% of our students enjoy a study abroad experience.
student success
We are proud to have a 95% student success rate.