7th January, 2022
MBE for Susan
The College is delighted to be able to congratulate Early Childhood Studies graduate, Susan Jones  on being awarded the Member of the Order of the British Empire (MBE) medal.  Susan received her Honour from Princess Anne, the Princess Royal, at a ceremony in Windsor Castle in November, in recognition of her services to Pre-School Education and Integrated Education in Primary Schools in Northern Ireland.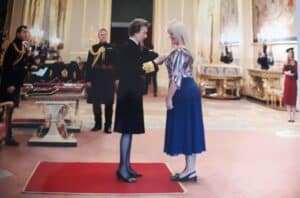 Susan began her career in advertising. Her interest and passion for childhood development was triggered through wanting to learn more about her own children. Having been involved in developing several cross community, intercultural and arts projects with children and parents in the Craigavon area, Susan returned to education and was part of the first cohort of students to undertake the 'new' BA (Hons) degree at Stranmillis, graduating in 2000. Susan then completed the PGCE (Early Years) at Stranmillis and, since then, has taught in several Primary Schools and is currently Head of Nursery Education at Fort Hill Integrated Primary School, Lisburn.
Commenting on her Award, Susan said: "I am very humbled to have received this amazing honour. It is a celebration of Early Years education, and of everyone who was involved with the vision of developing the ECS degree.
During a placement visit to Fort Hill, Sheelagh Carville, Head of Early Childhood Studies at Stranmillis, congratulated Susan, who continues to mentor current ECS students in their professional development. "Our ECS graduates' accomplishments never cease to amaze me!" says Sheelagh. "Susan is the epitome of professionalism. The ECS team are proud that they can claim some small part in all of the wonderful achievements in her career."
 Stranmillis currently offers the BA (Hons) Early Childhood Studies as a full-time or part-time programme, and a Foundation Degree in conjunction with the Regional Colleges. The College also offers the MA Early Childhood Studies and the PGCE (Early Years).
Reasons to study at Stranmillis
Student Satisfaction
Stranmillis is ranked first in Northern Ireland for student satisfaction.
Work-based placements
100% of our undergraduate students undertake an extensive programme of work-based placements.
Study Abroad
All students have the opportunity to spend time studying abroad.
Student Success
We are proud to have a 96% student success rate.