11th February, 2020
New Trees for Stranmillis Eco Campus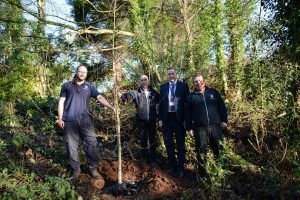 In support of Stranmillis University College's Eco Campus initiative, the College's Estates team were recently involved in planting 24 new oak and beech trees around the campus as part of the College's felling and restocking programme to improve the health, structure and diversity of campus woodland.
The Gardening Team maintain the campus grounds to a very high standard and we all look forward to watching and helping these trees grow over the coming years.
Pictured from left to right are Niall Kielt, Gerard Lamb, Philip Gallagher and Michael Gray from the team.
Reasons to study at Stranmillis
Student Satisfaction
Ranked No.1 for satisfaction in Northern Ireland.
Work-based placements
100% of our undergraduate students undertake an extensive programme of work-based placements.
study abroad
32% of our students enjoy a study abroad experience.
student success
We are proud to have a 95% student success rate.