13th May, 2022
REF2021 Success for Stranmillis
The Research Excellence Framework (REF) is the UK's system for assessing the quality of research in UK higher education institutions. The threefold purpose of the REF is:
to provide accountability for public investment in research and produce evidence of its benefits
to provide benchmarking information and establish reputational yardsticks
to inform the selective allocation of funding for research.
For each submission, three distinct elements are assessed: the quality of outputs (e.g. journal articles, book chapters, research reports), their impact beyond academia, and the environment that supports research.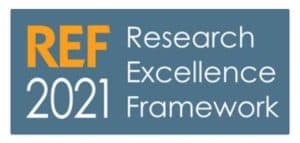 The REF2021 results have just been published, and the College is delighted to able to announce that 78% of our research activity was deemed to be 'recognised internationally' in terms of originality, significance and rigour (up from 72% in REF2014) and 22% was judged to be at the very highest levels of 'internationally excellent' or 'world leading'.
Commenting on the results, Principal and CEO, Professor Jonathan Heggarty said: "Our mission, as an education-focused University College, is to transform the lives of children and young people through excellence in teaching, research and scholarship.  High quality, impactful research is critical to our role in providing excellent research-informed programmes, shaping professional practice and informing policy.  These REF2021 results once again demonstrate the expertise, passion and commitment of Stranmillis staff to make a positive impact to lives of so many people."
Director of Research and Scholarship, Dr Noel Purdy, added: "Today's REF2021 results are a reflection of the growth of research and scholarship at Stranmillis over recent years.  As a small, specialist University College we have worked hard to facilitate the development of research and scholarship expertise over recent years and were really pleased that our 2021 submission included more than double the number of staff than in 2014.  We are also delighted that 100 per cent of our research impact was 'recognised internationally', which is a reflection of our commitment to changing policy and practice in classrooms and improving educational outcomes for children.  Producing high-quality research and scholarship is very much a team effort and I would like to congratulate everyone in the College who has contributed towards these very encouraging results. I would also like to thank our retiring visiting professors (Professors Colleen McLaughlin and Elizabeth Wood) for their invaluable support and guidance."
Reasons to study at Stranmillis
Student Satisfaction
Ranked No.1 for satisfaction in Northern Ireland.
Work-based placements
100% of our undergraduate students undertake an extensive programme of work-based placements.
study abroad
32% of our students enjoy a study abroad experience.
student success
We are proud to have a 95% student success rate.