6th November, 2023
Remembering Professor Richard McMinn
It was with sadness that the College learnt of the passing of a long-serving colleague and former Principal, Professor Richard McMinn, on Friday 3 November after a period of illness. Announcing the sad news to staff and former colleagues, Stranmillis Principal and CEO, Professor Jonathan Heggarty, said: "Professor McMinn was know personally by many current staff, having dedicated over thirty years of faithful service to the College until his retirement in 2007, serving as Principal for fourteen years during what was a very significant period of change for the College. Our condolences and thoughts are with his family and friends at this sad time."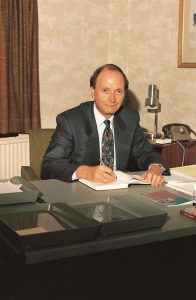 Speaking about his time at Stranmillis and the impact he made, his successor as Principal of the College, Professor Anne Heaslett, said: "Professor Richard McMinn gave a lifetime of dedicated service to education in Northern Ireland. He was the first member of his family to benefit from a university education. His appreciation of gaining a place at Queen's University, where he graduated with a BA in History (1968), signalled a lifetime commitment to opening educational opportunities for others. Completing his Dip Ed (QUB) he entered the world of teaching and a career primarily focused on roles within Stranmillis University College.
His association with Stranmillis College began with his appointment to the History Department in 1974 where he developed a successful lecturing and research career. This academic background equipped him with the critical tools to analyse the complex Northern Ireland educational landscape. Such knowledge proved invaluable as he steered Stranmillis through a number of challenging episodes when he became College principal in 1993.
For the next fourteen years he presided over a period of change. As Northern Ireland emerged from conflict with the signing of the Good Friday /Belfast Agreement in 1998, it provided him with the ideal context in which to promote the concept of Mutual Understanding and partnership working. He was a firm believer that the education system should promote mutual respect and tolerance. This belief went beyond mere rhetoric. It was part of who he was – a gentleman and a professional of the highest integrity.
One of the most significant achievements during Professor McMinn's tenure was the introduction of new degree programmes to complement the teacher education courses. The successful introduction of Early Childhood Studies and what is now the Health & Physical Education courses were the fruits of his careful, diligent leadership and helped ensure the College had a strong academic foundation to meet the demands of the 21st century. These developments also reflected Professor McMinn's lifelong commitment to promoting academic opportunities for young people, especially those, like him, who came from homes where there was no tradition of going to university.
The strengthening of the College's academic profile, including the conferment of the title University College in 1998, are part of his legacy on which the College continues to build."
Reasons to study at Stranmillis
Student Satisfaction
Stranmillis is ranked first in Northern Ireland for student satisfaction.
Work-based placements
100% of our undergraduate students undertake an extensive programme of work-based placements.
Study Abroad
All students have the opportunity to spend time studying abroad.
Student Success
We are proud to have a 96% student success rate.