29th March, 2021
Report: Second Northern Ireland Survey of Parents/Carers on Home-Schooling during the Covid-19 Crisis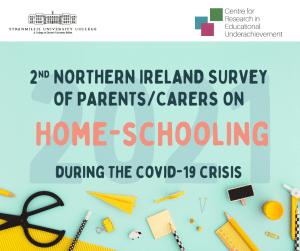 The ongoing COVID-19 pandemic has once again forced the vast majority of parents/carers of school-aged children in Northern Ireland to engage in responsibility for 'home-schooling', with this second extended period of home learning extending from January to March/April 2021, with the exception of vulnerable children, the children of key workers and children attending special schools. In May 2020, the Centre for Research in Educational Underachievement (CREU) at Stranmillis University College, Belfast, published its first report on Home-Schooling in Northern Ireland During the COVID-19 Crisis (Walsh et al., 2020) which highlighted the often very different experiences of children and young people during the first six weeks of the first lockdown. Our report highlighted how home-schooling exacerbated existing inequalities: for instance, we found that less well educated parents felt less confident in supporting their children's learning; we heard of particular frustrations expressed by working parents, especially key workers; and we learnt that digital poverty was presenting a challenge to many families with limited access to devices, printers and broadband. In the 2020 survey 31% of parents felt that their child(ren)'s emotional wellbeing had become 'worse' or 'much worse', 49% felt that it had stayed the same, and 20% felt that it had got 'better' or 'much better'.
As we entered the second period of extended home-schooling, CREU launched its follow-up online survey which remained open from 9th-22nd February 2021. The survey had 2002 usable responses, which included data for a total of 3668 individual children, from every part of Northern Ireland. Our comprehensive report shares preliminary findings in order to inform policy and practice in the short- to medium-term as government, schools and society continue to confront the challenges of Covid-19.
Summary of Key Findings:
Home-schooling favours children with better-educated parents
As in 2020, parents with higher levels of education felt more confident in their home-schooling role, and were more likely to play an active role in supporting their child's learning.
Digital accessibility at home is strongly related to household income
Although there was a slight increase from 2020 in the number of digital devices available to children, and a reduction in the percentage of parents reporting that they had no printer (18% in 2021, compared to 23% in 2020), children from households in the lowest income band were three times more likely to have no printer than children from households in the highest income band (30% vs 11%) and their parents/carers were considerably more likely to feel that the costs of printing (in terms of paper and ink) prevented them from using their printer (25% vs 3%). Children from low-income homes were also more likely to have to share a digital device and/or wait to be able to go online, and were less likely to report fast internet speeds. The geographical analysis also revealed that internet connectivity was worst in rural areas.
Parental experiences varied considerably by gender and employment
Once again the vast majority (96%) of respondents were female and there is a strongly gendered division of labour within most households in the sample, with women much more likely to be in the home, whether working or not, and responsible for child-care and home-schooling to a much greater degree than their male partners. Overall findings suggest that children spent longer on home-schooling activities in 2021 than in 2020, while those parents who reported finding time for home-schooling a challenge were most likely to be juggling work and home-schooling commitments, working either outside or inside the home. Additional questions explored the impact of home-schooling on parental mental health and highlighted that overall almost 80% of parents reported a negative impact on their own mental health and wellbeing, with the most acute impact felt by parents who were working from home.
The impact on children's mental health and wellbeing, social skills, and behaviour was much more negative in 2021 than during the first lockdown of 2020
The majority of parents/carers felt that the current lockdown/school closures had resulted in their child/ren's mental health and wellbeing becoming 'worse' or 'much worse' (51% in 2021 vs 31% in 2020). While 20% of parents in 2020 felt that their child's mental health had become 'better' or 'much better', by 2021 this figure had fallen to just 7%. The more negative experiences in 2021 can also be seen in relation to parent/carers' estimation of the impact of lockdown on their child's social skills (49% 'worse' or 'much worse' in 2021 vs 29% in 2020), and level of behaviour (35% 'worse' or 'much worse' in 2021 vs 29% in 2020). In the current survey we also asked parents/carers about the impact on their child's physical health and wellbeing and found that 47% felt that this was now 'worse' or 'much worse' than pre-lockdown with only 8% believing that it was 'better' or 'much better'.   The survey did reveal, encouragingly, that where schools placed importance or high importance on nurture, safety and well-being (according to parents/carers) this had a highly significant, positive, impact on reported levels of motivation, mental health and wellbeing, social skills, and physical health and wellbeing, compared to those schools who were not reported to value these approaches.  Only a third (33%) of parents indicated that they were in favour of their child repeating the 2020/21 year due to the impact of school closures, with 54% opposed to the idea and 13% unsure. Parents of primary aged children were on the whole more likely to be in favour of their child repeating the school year than post-primary aged children, with the exception of the parents of P7 children where less than a quarter (24%) were in favour of their child repeating the year.
Parents/carers are broadly happy with both the quality and the quantity of learning resources provided by their children's schools
Almost two-thirds (65%) of parents felt that the quality of learning resources was better or much better than during the first lockdown, with only 6% claiming that the provision was worse. The same majority (65%) were happy with the quantity of resources, an increase of 3% since the 2020 survey.
The number of parents who report that their child's school engages in some live online teaching has doubled since 2020
Reports live teaching increased from 24% to almost 50%, while the number of schools not engaging at all in live online teaching has fallen from 77% to just over 50%. This is a significant shift, and represents a positive response to the most common recommendation given by parents in the May 2020 survey and in this survey. Nonetheless, this study has shown that the provision of live online teaching is still not universal, and is significantly skewed towards older, post-primary pupils and especially those attending voluntary grammar schools and Irish medium schools.
There are widely divergent experiences depending on the age and year group of the children
There were particular issues to emerge in respect of our youngest children who spent least time engaged in formal home-schooling activities and least time being taught live online. Their parents often reported that their children were missing opportunities to play and to be outside, but there are indications from the data that opportunities during lockdown to engage in play and in outdoor learning were associated with higher levels of motivation, mental health and physical health and wellbeing.
There was a focus on disrupted assessment for many parents
For instance, for parents of pupils in years 6-8, there was a strong focus on the transfer tests, including fear and anxiety expressed by parents of the current P6 cohort faced with the uncertainty of what might happen next year; anger and frustration by parents of the current P7 cohort whose year had been dominated by the postponement and eventual cancellation of the transfer tests, with a feeling among a majority that contingency assessment methods ought to have been planned earlier; and among year 8 parents a belief that their children had missed out on the normal preparation for transition to post-primary schools and that some were not adjusting as well as might have been expected as a result. For many parents of pupils in years 12-14, there was again a sense of frustration that the revised methods of assessment could disadvantage their children's future.
Reasons to study at Stranmillis
Student Satisfaction
Ranked No.1 for satisfaction in Northern Ireland.
Work-based placements
100% of our undergraduate students undertake an extensive programme of work-based placements.
study abroad
32% of our students enjoy a study abroad experience.
student success
We are proud to have a 95% student success rate.