8th September, 2022
Skill Up: Postgraduate Certificate in Blended Learning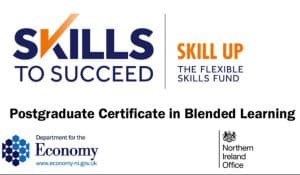 The Department for the Economy, with funding from the Northern Ireland Office and the Department of Finance, has developed a new programme, SKILL UP, to provide upskilling and reskilling opportunities, to improve the skills profile of our local workforce. Working in partnership with the Department for the Economy. The Postgraduate Certificate in Blended Learning at Stranmillis University College is one of the fully funded postgraduate courses available through SKILL UP, the flexible skills fund. We have 30 FREE places available on the programme. You are advised to apply as early as possible due to high demand.
For further information click here.
Reasons to study at Stranmillis
Student Satisfaction
Ranked No.1 for satisfaction in Northern Ireland.
Work-based placements
100% of our undergraduate students undertake an extensive programme of work-based placements.
study abroad
32% of our students enjoy a study abroad experience.
student success
We are proud to have a 95% student success rate.