16th October, 2023
Student Research Conference 2023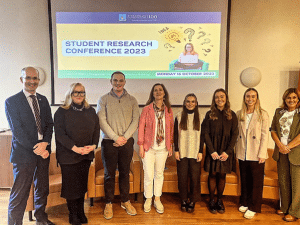 This year's Student Research Conference was held on Monday 16th October in the Craigantlet Dining Room, Refectory Building.  With more than 140 research methods in attendance, the conference provided guidance, encouragement and ideas as students think ahead to their final year dissertations.
The invited keynote address was given by Dr Céline Healy, Maynooth University.  Dr Healy is an experienced teacher educator and researcher in education. She is the current President of the Educational Studies Association of Ireland and a Council Member of the European Educational Research Association. Her keynote address was entitled '"Teachers as Researchers? Haven't we already got enough to do?": a consideration of the role of research in teachers' professional practice.'
A total of 4 recent graduates then presented their outstanding dissertation research projects from 2022-23.  The selected students were Amber Harrison (née McCullough), B Ed Primary, who presented on "Reach Out, Reach In: An Investigation into Mental Health and Emotional Wellbeing Support Provision in Northern Ireland Primary Schools."  This was followed by Curtis McIlhagga, BSc Health, Physical Activity and Sport, whose dissertation focused on "An investigation into how crowd support affects the outcome of football matches within the Northern Irish Football League".  The third presentation entitled '"I don't really talk that much": Understanding the experiences of shy pupils in the classroom context' was delivered by Rebecca Gilmore, B Ed Primary, before Caoimhe Charters, PGCE Early Years, concluded with her presentation on the appropriateness of play as a learning medium for young children.
Students were able to submit questions using Mentimeter to the presenters who formed a panel and considered their perspectives on what made a great piece of research and also how their research had impacted their practice.  Well done to all this year's presenters who helped ensure that the student research conference was once again a great success.
Reasons to study at Stranmillis
Student Satisfaction
Stranmillis is ranked first in Northern Ireland for student satisfaction.
Work-based placements
100% of our undergraduate students undertake an extensive programme of work-based placements.
Study Abroad
All students have the opportunity to spend time studying abroad.
Student Success
We are proud to have a 96% student success rate.