2nd October, 2019
The Talk of Tyrone – Stranmillis ECS staff launch The Daily Mile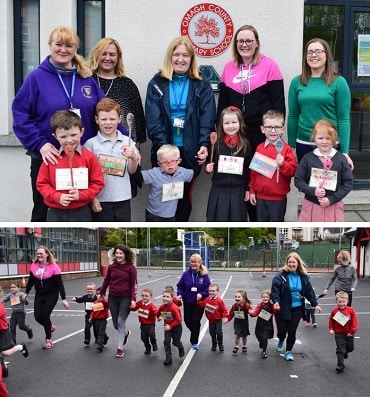 Talking, walking and running were the requirements at the launch in Omagh County Primary School of The Daily Mile (TDM) initiative when Dr Brenda McKay Redmond and Dr Barbara McConnell, Stranmillis ECS staff, were the invited guests.
The Early Years staff at Omagh County P.S. have been working at introducing The Daily Mile for their children under the enthusiastic direction of Emma Daley, their nursery teacher and current Stranmillis ECS Master's student. Emma wanted to introduce TDM as it is a social activity where the children walk, run or jog, at their own pace, for 15 minutes at least three times a week. It is fully inclusive and improves the health and wellbeing of children. Emma believes that TDM helps children to become more physically active, that it is sustainable and that the children are refreshed, returning to class ready to learn. The Early Years staff have also been working alongside Lesley Finlay & Eimear O'Kane (Western Health Social Care Trust (WHSCT) Health Improvement Department) and Oonagh Donnelly (Community Planning, Fermanagh and Omagh District Council) in the lead up to this exciting event.
Lesley Finlay, Physical Activity Co-ordinator for the Western Health & Social Care Trust, highlighted: "The Daily Mile is a simple, free way of promoting physical and mental health and also helps children focus in the classroom. We are delighted that Omagh County have introduced the initiative in their school. We have developed a range of resources to support Primary Schools who wish to participate in The Daily Mile including pupil certificates and classroom posters."
Jill Funston, Principal of Omagh County PS, felt that the introduction of TDM in her school was significant because: "The Daily Mile removes barriers to the participation in physical activity. It is simple and inclusive. It introduces daily physical activity into children's lives with the minimum of fuss. A valuable intervention in this time of austerity which costs nothing".
The children celebrated completing their first mile by placing a sticker on their 'The Daily Mile' chart and enjoying a healthy picnic snack. What an achievement!
Brenda McKay Redmond insisted that: "Running along with the Nursery and Year 1 pupils as they embarked on their Daily Mile journey was the real privilege of the day. Being part of this TDM launch initiative, and watching the children embrace the core principles of TDM was so exciting. TDM was such a sociable event for the children as they had fun, ran and chatted with their friends, enjoying their experiences together. Barbara and I wish all the children and staff every continued success in implementing this vital and valuable initiative and hope they will continue to be the Talk of Tyrone!"
Further information on becoming a Daily Mile School can be found on TDM website www.thedailymile.co.uk and by contacting Dr Brenda McKay-Redmond B.mckayredmond@stran.ac.uk TDM representative for N.I. on TDM Research Advisory Group
Reasons to study at Stranmillis
Student Satisfaction
Ranked No.1 for satisfaction in Northern Ireland.
Work-based placements
100% of our undergraduate students undertake an extensive programme of work-based placements.
study abroad
32% of our students enjoy a study abroad experience.
student success
We are proud to have a 95% student success rate.