2nd October, 2019
When a conversation on Twitter leads to a whole conference!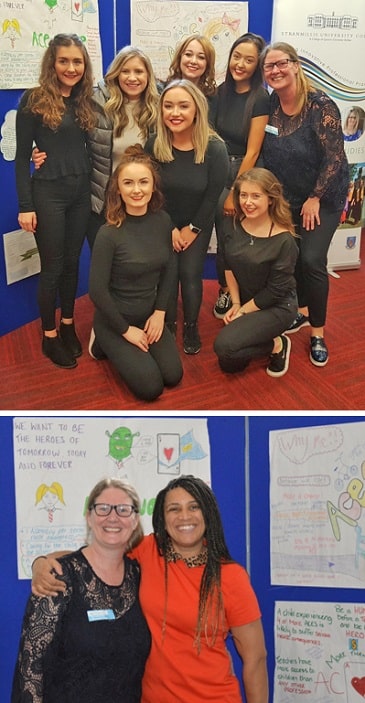 A rise in social media activity on how to best address 'Adverse Childhood Experiences' (ACEs) demonstrates a growing global concern for those who work with children. Teachers, schools and other educational professionals are central to identifying children who are dealing with one or multiple ACEs and to provide appropriate support to them. ACE awareness is now an integral part of Stranmillis degree programmes and as part of our wider community engagement we were delighted to jointly host and organise a 'Relationships for Resilience: Show-casing effective trauma informed practice' conference.
The conference was a collaborative project between Stranmillis University College, Barnardo's NI, Women's Aid Federation NI and Connected for Life. Representatives from each of these organisations formed the TIPER team (Trauma Informed Practice for Effective Relationships network) and organised the conference to inspire and deliver messages of hope and resilience. The TIPERs agreed that there had been a lot of awareness raising around ACEs but that many practitioners remained unsure about what they could do next to break cycles of adversity and how to really make a difference.
Roisin O'Neill from Barnardo's said:
'We wanted to motivate practitioners and students and influence change across the different sectors to bring about a more trauma-informed and trauma-responsive society. The key message was to be about the power of relationships and human connections in bringing about healing and transformation, and helping children to thrive and fulfil their potential.'
The conference was attended by 200 practitioners and 50 students and was a huge success. It was opened by Stranmillis drama specialist students, pictured with College tutor Dr Bronagh McKee who produced the drama to showcase the importance of trauma informed practice for teachers in understanding children's reality of adversity. This was followed by a powerful film – 'Robert's Story' which told of a young local man's journey from adversity and offending to resilience and hope. The keynote speech was from inspirational Jaz Ampaw-Farr, Resilience Ninja and TED Talk presenter, who told her story of growing up in the midst of appalling poverty, trauma and hardship and the five 'everyday heroes' (all teachers), whose belief in her literally saved her life.
Jaz took time to view Stranmillis student posters on adverse childhood experience and trauma informed practice and said
'I'm blown away with the work that your (Stranmillis) students get in relation to trauma informed practice' and tweeted 'My reason for celebration today is connecting with these phenomenal women (TIPER team) leading the ACEs revolution in Northern Ireland'.
The afternoon provided a range of workshops that showcased and celebrated models of best trauma-informed practice from early years settings, schools and community groups across Northern Ireland. These provided delegates with innovative ideas, strategies and practice tools to help children overcome adversity, build resilience and fulfil their potential. The University College will continue to embed ACE awareness trauma informed practice in its core degree programmes and looks forward to hosting more events such as the one highlighted here.
Reasons to study at Stranmillis
Student Satisfaction
Ranked No.1 for satisfaction in Northern Ireland.
Work-based placements
100% of our undergraduate students undertake an extensive programme of work-based placements.
study abroad
32% of our students enjoy a study abroad experience.
student success
We are proud to have a 95% student success rate.