29th November, 2019
Zero (Nul, Nolla, Null, Noll) Stranmillis Waste to Landfill!
As part of the Stranmillis Eco Campus Initiative a group of the committee members recently visited the RiverRidge waste processing centre in Portadown.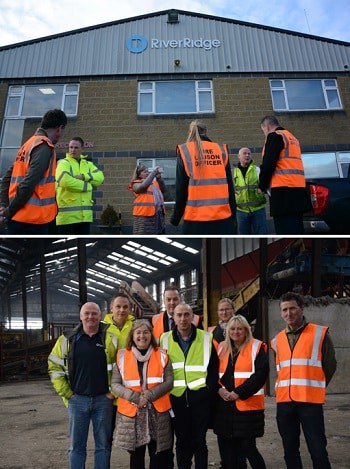 The centre processes some of the general waste from the Stranmillis campus along with the waste of a number of other clients including local councils. The dry mixed recyclable waste generated on campus is taken to the RiverRidge facility in Garvagh.
During an informative tour the committee were shown the processes through which metals and other materials such as plastics and cardboard with recycle value were removed from the waste with the residual material being shredded and blended to make industrial fuel, known as 'refuse-derived fuel (RDF). The RDF is used in a gasification power station in Belfast which supplies electricity to the Bombardier aerospace factory. The ash which is produced after the fuel has been burnt can be used as aggregate for road works.
Food waste from the Stranmillis kitchens is currently collected separately, also by RiverRidge and composted, while the College's garden waste is composted here on campus.
The combination of the waste recycling and RDF generation means that currently no waste from Stranmillis goes to landfill!
Nul, Nolla, Null, Noll? In recognition of our current International Students, these words are Danish, Finish, German and Spanish for Zero!
Reasons to study at Stranmillis
Student Satisfaction
Stranmillis is ranked first in Northern Ireland for student satisfaction.
Work-based placements
100% of our undergraduate students undertake an extensive programme of work-based placements.
Study Abroad
All students have the opportunity to spend time studying abroad.
Student Success
We are proud to have a 96% student success rate.