The Foundation degree in Early Childhood Studies is designed to provide you with specialist knowledge and understanding of working with 0-8 year olds, the Early Childhood Studies Foundation Degree focuses on the key theories, concepts and application of working practices and skills required to work with this age group in a variety of Early Years settings. A varied programme of professional placements complement and support your classroom learning.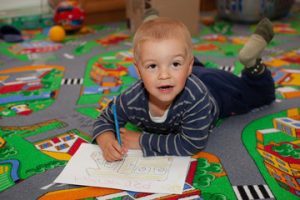 The Foundation Degree can be studied full-time (2 years) or part-time (3 years) depending on location. Applications to the full-time degree are made through UCAS via the APPLY NOW button above. Applications to the part-time degree are made directly to the relevant Regional College. Graduates who achieve the desired academic standard may be eligible for progression to year 2 of the BA (Hons) Early Childhood Studies degree [full-time or part-time] at Stranmillis University College.
The course is available at:
South West College – Omagh
Southern Regional College – Newry
Belfast Metropolitan College
South Eastern Regional College – Lisburn
Northern Regional College – Ballymena
Northern Regional College – Newtownabbey
North West Regional College – Londonderry / Derry
For further information, please contact your nearest Regional College.
How will I study?
In addition to lectures, tutorials, workshops and individual/group projects, you will undertake a period of work placement.
Who will be teaching me?
You will be taught, assessed and supported by an exceptional team of experienced practitioners both in College and whilst on placement.
How will I be assessed?
Modules are assessed through a combination of assignments, presentations and exams as well as placement reports.
The modules below illustrate the current curriculum available over the 2 or 3 year Foundation Degree in Early Childhood Studies degree. However, courses are subject to change.
Child Development
Acquisition of Language and Communication Skills
Learning through Play
Quality Provision in Early Years
Historical Overview of the Development of Early Years Provision
Safeguarding Children
Developing Skills and Strategies for Managing Children's Behaviour
Working with Children with Additional Needs
Anti Discriminatory Practice and Inclusion in the Early Years Environment
Working with Babies 0-3 Years
Science and Technology in the Early Years
For further details and information on the programme structure, please click on the regional college Early Childhood Studies pages below:
South West College
Southern Regional College
Belfast Metropolitan College
South Eastern Regional College 
Northern Regional College  
North West Regional College
Applicants should be aware that applications for the full-time Foundation Degree in Early Childhood Studies are made via UCAS. Applications for the part-time option should be made directly to the Regional College. 
GCSE requirements
Grade C or above in English and Mathematics or equivalent approved qualifications  (Level 2 Essential Skills in Communication is acceptable in lieu of a grade C in GCSE English Language, however Level 2 Application of Number cannot be substituted for GCSE Mathematics)
A Level
CC
BTEC Extended Diploma
MMM
CACHE Extended Diploma
Overall grade C – Children's Care, Learning and Development
Irish leaving certificate requirements
H5H5H5H5H5 to include English and Mathematics
Please email registry@stran.ac.uk if you require further information on entry requirements or the admissions process for the Foundation Degree Early Childhood Studies.
Successful completion of the Foundation Degree at a required level will allow you to apply to the BA (Hons) Degree in Early Childhood Studies at Stranmillis University College, creating a pathway in to Year 2 of this programme on a full or part-time basis.
An Early Childhood Studies degree provides the essential knowledge and experience for those working with young children in a variety of establishments including:
Early Years Organisations
Nursery and Primary Schools 
Centres Associated With The Early Years Organisation
Toy and Book Libraries
Creches
Parent and Toddler Groups
Childcare And Family Centres
Tuition Fees
For fees for Foundation Degree courses, please contact the relevant Regional College.
Additional Course Costs
There may be extra costs which are not covered by tuition fees, which students will need to consider when planning their studies. Students can borrow books and access online learning resources from the Library. However, if students wish to purchase recommended texts, rather than borrow them from the Library, prices per text typically range from £30 to £100. Students should also budget between £30 to £75 per year for photocopying, memory sticks and printing charges.  There are also additional charges for graduation ceremonies, examination resits and library fines. Enhanced AccessNI checks are made directly with the individual Colleges.
On the Early Childhood Studies Foundation Degree, the aim of Stranmillis University College and our Regional College partners is to deliver the highest quality teaching and learning environment to enable you to achieve your full academic potential and develop outstanding workplace competence.