5th May, 2020
Links in Achievement and Deprivation
At the end of April, CREU hosted a webinar in its 'Achieving Education' series with Professor Ruth Leitch and over sixty participants. The seminar series, focused on the issue of educational disadvantage, is a forum for diverse stakeholders in Education in Northern Ireland to meet, hear about recent research from an expert in the field, and subsequently engage in structured debate with invited panellists. Professor Leitch has worked extensively in the area of Education Policy in Northern Ireland and beyond, focusing in recent years on issues of (in)equality in Education. She led an important study 'Investigating Links in Achievement and Deprivation' (ILiAD), the findings of which were highly significant for academic and policy communities alike. Access the webinar recording by clicking on the image below.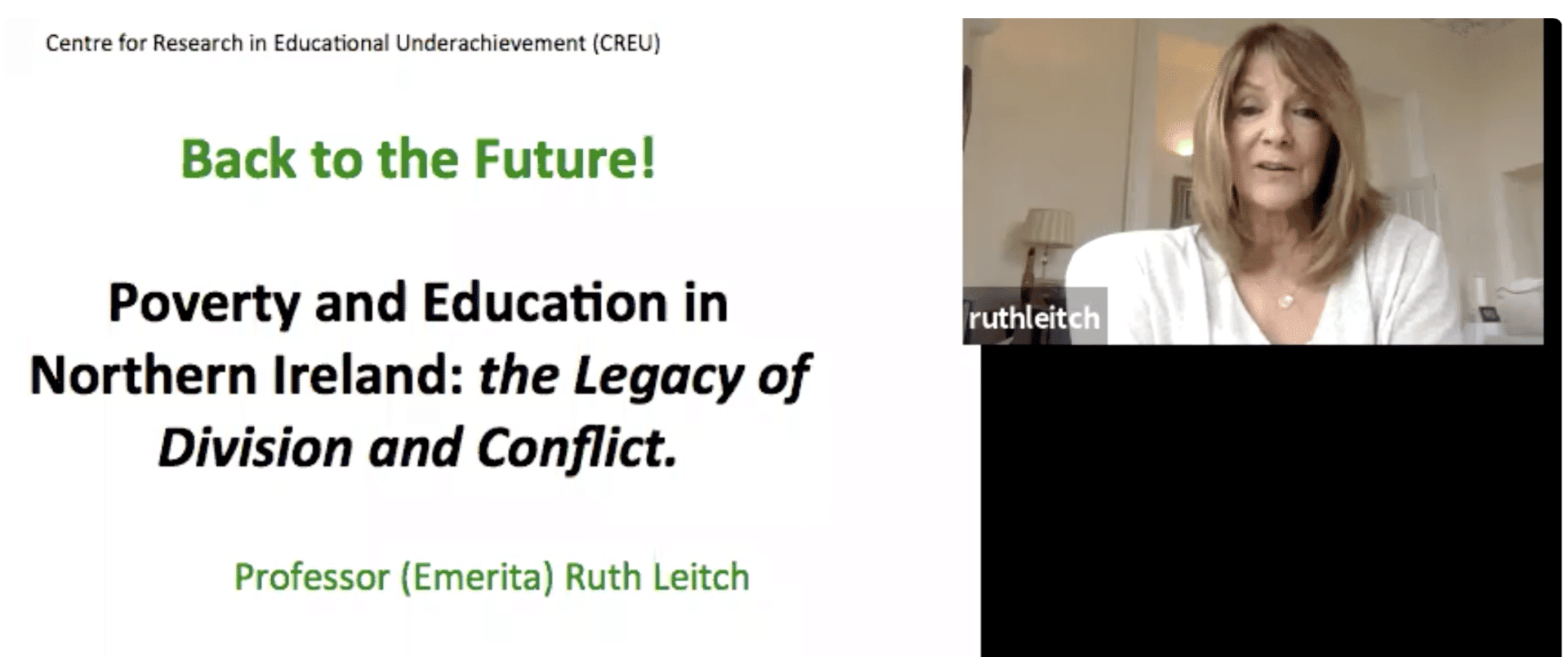 Newly released ILiAD reports
As well as giving this webinar, Professor Leitch also released first two volumes of the ILiAD report, to be hosted for public access on the Stranmillis University College website. The ILiAD study was undertaken by researchers at Queen's University Belfast and Stranmillis University College, for the Office of the First Minister and Deputy First Minister (OFMDFM). It used a multi-disciplinary approach to investigate educational outcomes in some of Northern Ireland's most deprived urban areas. Follow the links below for the newly released volumes:
ILiAD report volume I: An Unabridged Summary of the Research Findings
ILiAD report volume II: Detailed Accounts of the Seven Ward Case Study Areas
This important work will be a helpful reference for future research and policy in the area of educational disadvantage and underachievement, and includes detailed charts, graphs and maps.
Upcoming Webinar
The next 'Achieving Education' seminar will take place on Wednesday 17th June, when we invite Dr Feyisa Demie to share his research on 'Closing the Educational Inequality Gap'. Follow this link to find out more, and to register.
Reasons to study at Stranmillis
Student Satisfaction
Ranked No.1 for satisfaction in Northern Ireland.
Work-based placements
100% of our undergraduate students undertake an extensive programme of work-based placements.
study abroad
32% of our students enjoy a study abroad experience.
student success
We are proud to have a 95% student success rate.