26th May, 2021
Report: School-based Support for Syrian Refugee Pupils in Northern Ireland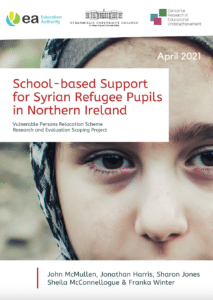 Over the past 5 years Northern Ireland has welcomed approximately 1,900 Syrian refugees, including almost 700 school-aged children and young people, through the Vulnerable Persons Relocation Scheme (VPRS). Many of these have experienced war and persecution, and a range of additional adversities during and post-migration. Alongside language proficiency, 'trauma' has been the most common challenge reported by school staff to the Education Authority's (EA) Intercultural Education Service (IES). In response, during 2020-21 a new pilot referral service for schools, the Schools Trauma Advisory and Referral Service (STARS), was formed, with the overall aim of reducing the impact of trauma as a barrier to learning and managing the demands of a school day.
This independent research was funded by the EA and had the following aims: i: to better understand the educational experiences of Syrian refugee pupils and explicate the support requirements of teachers and schools; 2: to investigate barriers to accessing the educational environment which may have resulted from the sequelae of previous trauma; 3: to provide an evidence base to inform the service design and delivery of STARS.
A Review of International Evidence
The report contains three distinct strands. The first is a scoping review of international evidence relating to school-based interventions, practices and approaches that address trauma and other psychosocial difficulties among refugee pupils since 2010. This summarised the findings from 11 studies, covering a range of trauma-informed practice in schools ranging from CBT-based interventions to other informed by a TST model, to a wide array of alternative approaches that harness the beneficial effects of music, art and play. We paid particular attention to how these interventions had been implemented in their unique contexts, and with what outcomes, to identify effective, engaging and efficient modes of working.
Consulting with Syrian Refugee Pupils and their Parents
The second strand is a pair of surveys with Syrian parents and pupils to identify barriers and difficulties experienced in school, including those relation to experiences of trauma. Given the exceptional school closures at the time due to the Covid-19, direct engagement through focus groups or interviews was not an option. Survey responses nonetheless covered a significant proportion of Syrian refugee families in Northern Ireland (~20%) and bring their vital voices into the research.
Gathering teachers to share experiences
Finally, a set of online focus groups with teachers investigated the support requirements of teachers and schools, and any barriers to education resulting from the sequelae of previous trauma amongst refugee pupils. 16 teachers representing a range of statutory educational settings were involved in the focus groups, and highlighted a desire for more widespread and available training and support for teachers educating multilingual, trauma-affected children and young people.
The report ends by identifying six major findings and makes six associated recommendations for consideration by EA colleagues and other related agencies.
1. Language acquisition is the main challenge
The first is that language issues were highlighted by all research participants as the main barrier to education and a major area where support is perceived to be lacking. We conclude that language as a barrier needs to be re-visited in terms of commissioning of services as there is not enough capacity in terms of either resourcing or teacher expertise/capacity. In addition, measures to address the impact of language barriers in accessing trauma support are greatly needed.
2. A strong evidence base exists for school-based interventions and practices
Our scoping review found a diverse range of potentially beneficial school-based interventions and practices that support refugee children and adolescents' recovery from traumatic experiences worldwide. Where they converge is to demonstrate that it is vital that any interventions/practices are culturally sensitive and contextualised, taking into account the participants' priorities, norms and values. Partnership with members of the Syrian community and other community organisations in the selection, adaptation, implementation and evaluation of interventions is vital.
3. Trauma has impacted some but not all
Our focus group results suggested that there is a default assumption among some school staff that all refugee pupils have experienced trauma and have barriers to learning as a result. However, while a third of Syrian parents reported that their children had experienced a traumatic event, this did not seem to be a barrier to accessing the educational environment according to most parents and pupils. A minority did report signs of trauma including attachment issues, avoidance, separation anxiety, and being quiet and withdrawn. There is a need for psychoeducation to develop understandings of trauma, and of mental health and wellbeing in general, both within the Syrian refugee community and amongst school staff.
4. Schools have a lack of information about refugee pupils
Schools reported a lack of knowledge about refugee pupils' history and background. In the absence of this information, the biographical experiences that they relate to teachers may lead to the default assumption that trauma has impacted their wellbeing and learning. In the report we suggest systemic approaches through which professionals could gather information about prevalence and impact of previous experiences.
5. Schools have had success, but clear guidance is required
Syrian parents' and pupils' reports on school experiences and support were overwhelmingly positive. The focus groups with school staff highlighted professional commitment, passion and creativity in using existing knowledge and understanding, and in a sourcing a range of external supports to support Syrian children and young people. However, some school staff stated that they often had to rely on instinct or personal experience, rather than expertise, which made them feel inadequate and worried about the quality of their provision. A 'Best Practice Guide' for supporting refugee and asylum seeking pupils could provide evidence-informed, best practice advice for schools. There are good examples from other areas, but a Northern Ireland-specific, contextualised, guide is needed. In the report we have made further suggestions for what this could include.
6. The EA's Intercultural Education Service support is valued and should be extended
Existing support is widely seen as helpful and is appreciated by teachers and schools. Interaction with IES/STARS personnel was consistently described as positive and helpful, but there was a clear call for this to be more widely available and accessible. With the addition of Educational Psychology staff to IES there is potential for a joined-up, responsive team with diverse expertise to deliver a holistic service for refugee and other newcomer children and young people.
Trauma training should be available for all schools and all staff, regardless of a school's VPRS pupil population or a staff member's role. Further collaboration and integration of trauma-informed training and practice across the EA and beyond may better serve school staff. Finally, local training/networking events that bring together staff from neighbouring schools to connect, share best practice, exchange resources and insights, and build capacity were highly sought-after by teachers in our focus groups. These could be facilitated by IES/STARS through reflective practice groups or group process consultation, which would be an effective and efficient approach to supporting a large number of refugee pupils.
Click here to read the full report
Click here to register for the CREU webinar on June 23rd 2021
Reasons to study at Stranmillis
Student Satisfaction
Stranmillis is ranked first in Northern Ireland for student satisfaction.
Work-based placements
100% of our undergraduate students undertake an extensive programme of work-based placements.
Study Abroad
All students have the opportunity to spend time studying abroad.
Student Success
We are proud to have a 96% student success rate.