Events
A large part of  University is meeting new people and having fun so the Students' Union run a range of events throughout the year to allow students to enjoy themselves, meet new people and have the time of their lives!
Fresher's Week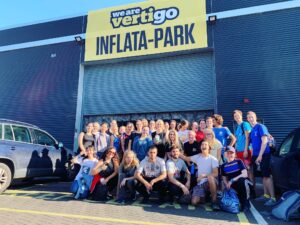 The highlight of the first years is always Fresher's Week, a week of events to introduce first years to university life! The Students' Union holds tours of campus to show students around, as well as events like our Welcome Party & Tuesday Night Live, visit to Streamvale Farm & WeAreVertigo, and the enjoyment of the Fresher's Fair to allow students to sign up for a range of Clubs and Societies, there is something for everyone!
Back to School Bop
A tradition that has been around at Stranmillis for decades, it's the highlight for many students! Held down in Scholar's Bar, it's a fun night out, rocking your old school colours and dancing the night away!
Formal
Get your dresses and Tux out,  Stranmillis Students' Union's Formal is always the talk of the town! One of the best nights in the Union's Calendar, we come together to celebrate the past year with awards, speeches and dancing the night away, it's not to be missed!

COVID-19 Events
During the past year, despite all the restrictions and limitations, the Students' Union has continued to support students and provide a range of online events for students to get involved with!

From Online Quizzes and Halloween Pumpkin Carving to 'Mamma Mia' Themed Dance Nights and 'Among Us' Nights, there is something for everyone!
Charities
We believe that it is vitally important to support both local and international charities as a part of our role in the Students' Union, who have been recognised as 'Charity Champions' in the USI Student Achievement Awards Ireland. As part of our Students' Union Executive, there is the Welfare Secretary, whos role is to ensure all students are feeling supported, and to support these charities via events and fundraisers!
Charities Week
One of the best and busiest weeks on campus, we hold a different events to fundraise for each of our charities over a week long period!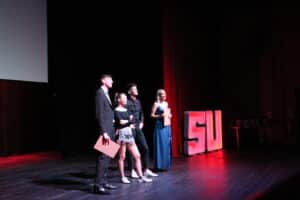 Events change each year, ranging from a UV Party to the always entertaining Take me out! One constant is 'Stran Does Strictly', which is always a sell out for students, staff and the public alike, is always a great night to see the talent and commitment of the students, fighting to win the Crown!
Food and Clothes Drive
Thanks to all the donations from Staff and Students, we were able to deliver 14 boxes of Food Donations and 28 Bags of Clothes to People's Kitchen Belfast's distribution Centre at the Odyssey/SSE Arena, Belfast as a part of their Christmas Appeal! Seeing the work they are doing on such a big scale was really interesting and they really appreciated all the donations!
Videos
To raise money for the Cancer Fund for Children, we recorded a series of videos of students competing in 'Mr and Mrs'! We raised an amazing £208 for their vital work and if you want to watch the videos, click the graphic below!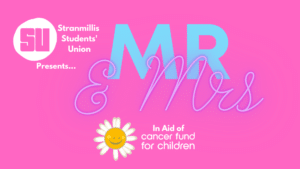 Who are we supporting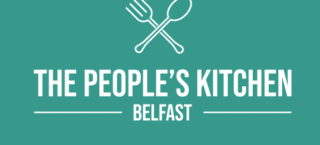 The People's Kitchen
The People's Kitchen are a vital foodbank and kitchen who provide a safe and welcoming environment for individuals and families who are faced with homelessness and poverty with a focus on outreach in the community and on the street. Their roles are being stretched due to Covid-19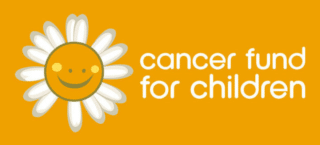 Cancer Fund for Children
They are there for children and young people diagnosed with cancer, or living with a parent diagnosed with cancer. They offer support in their home, community, on the hospital ward and at their residential centre, so that no family has to face cancer alone.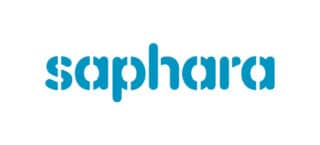 Saphara
Saphara is an educational charity focusing on transformational encounters in Northern Ireland and India. Stranmillis University was due to send out a team of students in 2020 to support the work that they are delivering in India but this was postponed due to Covid-19