What is the National Student Survey (NSS)?
The NSS is a vital annual survey of nearly half a million final year students on the quality of their courses. The survey,  commissioned by the Office for Students and independently administered by Ipsos Mori,  gives students a powerful voice to help shape the future of their course at their university or college. Students are asked to respond to questions relating to various aspects of their course and are also given the opportunity to make open-ended positive and negative comments on their student learning experience as a whole at their university or college.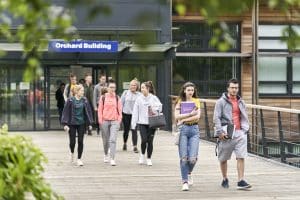 The survey data is used to:
help students make informed decisions when deciding what and where to study
help universities and colleges develop their courses and facilities for current and future students
Key areas covered by the survey include:
teaching on my course
learning opportunities
assessment and feedback
academic support
learning resources
student voice
overall satisfaction
For further information on NSS and to COMPLETE THE SURVEY, click here.
Must visit destination
Belfast is one of the Top 10 cities on the rise (Lonely Planet) and top 12 world travel destinations (Frommer's).
STUDENT RETENTION
Stranmillis has one the highest student retention rates in the UK at 98%.
Student Satisfaction
Stranmillis is ranked joint first amongst Northern Ireland HEIs for student satisfaction..
Network of Partners
The College has a network of over 750 school, education and alternative placement partners.
Global Community
Study alongside students from over 20 countries worldwide.
Stran Halls
Affordable student living with over 459 fully furnished single bedrooms.
Security
With 24 hour residential support and security, you're always safe.
budget friendly prices
Great prices from only £96 per week.