MENTAL HEALTH
Good mental health is necessary for us to be happy and content as it effects the way we think, feel and act. Everybody can experience ups and down in life. This is very normal, but having tools and coping mechanisms in place will ensure your mental health does not deteriorate too much. These tools can help you to cope with stresses, fears and worries, enabling you to live your life to the full.
Experiencing mental health issues can alter an individual's thinking, mood, behaviour and attitude towards life. Many factors may contribute to mental health problems, including biological factors, environment and life experiences. Therefore, it is important to understand and talk about it.
When we are feeling down, and our mental health is suffering, there can be some visible warning signs that you may become aware of, such as:
mood swings

low mood for a prolonged period

loss of interest in doing things you previously enjoyed, for example, socialising, a hobby, going to work, etc

 

not wanting to socialise or be around people

 

disturbed sleep patterns

 

loss of appetite or over eating

 

lack of personal hygiene

 
Use the link below to take a quiz to assess how you are feeling in relation to depression and anxiety:
Depression and anxiety self-assessment quiz – NHS (www.nhs.uk)
SIGNS TO LOOK OUT FOR:
Depression
Depression is a mood disorder leading to sadness and loss of interest. When you feel depressed for a prolonged period, you might find that you cannot use your normal coping mechanisms to help yourself and may require help from professionals, such as  your GP or a counsellor.  
Depression can develop quickly or gradually, and can be caused by life events, traumatic events, changes that occur in your life and/or changes in body chemistry. It can affect anyone. Do not feel like you are on your own if you have depression. Statistics show that 1 in 4 adults in the UK have mental health issues.
You can get in touch with us to talk about it by contacting:
Patricia Smyth, Student Support Officer
T: 028 9038 4510      E: p.smyth@stran.ac.uk
Anxiety
Anxiety is a condition of tension, nervousness and worrying. It is normal to feel anxious in everyday life situations. However, a constant intense anxiety feeling that disturbs daily life is a start of anxiety disorder. There are self-help strategies and talking therapies available to help with the issue. 
If you have anxiety, you might experience heart palpitations or a racing of your heart, dry mouth, trembling and feeling faint. 
Panic attacks are associated with feelings of extreme anxiety that come on in unpredictable attacks that usually last for about ten minutes. If you have panic attacks, you may have difficulties breathing, feel panicky and tend to feel out of control. 
If you ever experience a panic attack it can be hard to stop. Start to breathe normally again.  Grounding techniques are useful when this happens. One such technique is explained in the diagram below: 
Read more about anxiety disorders, symptoms, self-help tips, support and treatments available via the links below: 
Anxiety: Minding Your Head
Feeling anxious: NHS Anxiety
Eating Disorders
It is described as a mental health condition in which a person develops a habit of eating too much or too little to cope with feelings and/or situations. It is also characterised by worrying too much about body weight or shape.
The most common eating disorders are: 
Anorexia nervosa- This is when you don't eat enough food, exercise too much or do both in order to control your weight. 
Bulimia- This is eating a large amount of food followed by making yourself sick to ensure you do not put on weight. 
Binge Eating Disorder- eating large amounts of food until you feel uncomfortably full. 
To find out more  about eating disorders and getting help, click on the links below:
Self Harm
Sometimes people may find self-harm is the only way they know how to cope with the pain they are going through. This pain could be caused by many life situations, including bullying, bereavement, relationship issues, family problems and much more. Often people who self-harm say it feels like a release for them. There are services available to help people overcome such thoughts and the action of self-harm. Counselling is a service that can help with self-harm.
Student Support is here to help if you are getting thoughts of self-harming.  You can get in touch with us to talk about it by contacting:
Patricia Smyth, Student Support Officer
T: 028 9038 4510      E: p.smyth@stran.ac.uk
studentsupport@stran.ac.uk
A list of few services available can be accessed here.
Suicidal Feeling
Suicide does not have one single cause. Sometimes, for the families left behind, they never know the cause. Certain factors, like substance abuse and untreated depression or other mental health conditions, can lead to a higher risk of suicide.  If you have suicidal thoughts, it is important to get help immediately to talk about and control such thoughts. 
Call someone you trust or contact a helpline, such as LifeLine (0808 808 8000). More useful helpline numbers are available in the useful resources section.
The warning signs that someone is having suicidal ideations and need immediate help are: 
talking about wanting to die or to kill oneself

 

talking about feeling hopeless or having no purpose

 

talking about feeling trapped or being in unbearable pain

 

talking about being a burden to others

 

increasing the use of alcohol or drugs

 

sleeping too little or too much

 

withdrawing or feeling isolated

 

displaying extreme mood swings.

 
If you feel that you are experiencing symptoms of any mental health issue,
it is important that you speak to someone and get professional help and advice. You could speak to a close friend or relative, or a tutor if you feel comfortable to do so. This would be a positive first step and they can then support you whilst you:  
c

ontact your GP

talk to the Student Support team who can

talk to you in person, online or via the telephone to

help you explore self-help strategies

contact organisations which might be able to offer you help for specific issues, either by providing resources or support on a one-to-one or group basis
STEPS TO IMPROVE MENTAL WELLBEING
NHS details the following steps to improve your overall mental wellbeing: 
1. Connect with other people 
2. Be Physically active 
3. Learn new skills 
4. Give to others 
5. Pay attention to the present moment
Read more about improving mental wellbeing at: 5 steps to mental wellbeing
FEELING GOOD APP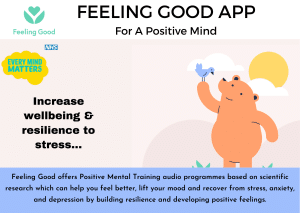 Stranmillis has partnered with Feeling Good App to provide increased wellbeing support and resilience to stress. It contains a number of different audio programmes for recovery, everyday relaxation and wellbeing.
Good feelings make your mind function better, improving focus and concentration, making it extremely helpful for your daily life. Good feelings also help you bounce forward from setbacks and overcome challenges in your life. This is resilience, and with repetitive listening, resilience and wellbeing will grow.
The Feeling Good App can be downloaded from Apple Store or Google Play.
Must visit destination
Belfast is one of the Top 10 cities on the rise (Lonely Planet) and top 12 world travel destinations (Frommer's).
STUDENT RETENTION
Stranmillis has one the highest student retention rates in the UK at 98%.
Student Satisfaction
Stranmillis is ranked joint first amongst Northern Ireland HEIs for student satisfaction..
Network of Partners
The College has a network of over 750 school, education and alternative placement partners.
Global Community
Study alongside students from over 20 countries worldwide.
Stran Halls
Affordable student living with over 459 fully furnished single bedrooms.
Security
With 24 hour residential support and security, you're always safe.
budget friendly prices
Great prices from only £96 per week.