The World Around Us
You can help your children find out more about the world round us with these interactive activities.
1. Playdough Animals – Amy Woods
Enjoy time with your children creating animals using natural materials found outdoors.
Learning Intentions
To explore and experiment with a variety of natural materials to make prints on playdough, create animals using various natural materials and learn about concepts such as noctural behaviour and hibernation.
Activity
1. Resources: playdough, variety of plants, dough utensils, pictures of animals.
2. Firstly, make playdough with the children (add in mixed spice and paint to make it more sensory and colourful).
3. Go on a scavenger hunt and see what natural resources can be used to add to the playdough to create animals or make prints on the playdough.
2. Light and Dark – Jaimie Carlile
Building a den is a fun way to explore time (day and night) using torches, glowstcks and stories stories.
Learning Intentions
Use the interests of the child to develop an understanding of sequencing and time.
Activity
1. Resources: tent (or a den made out of blankets), sleeping bags, pillows, glow sticks, glow in the dark stars. Storybooks: A Dark Tale by Ruth Brown, The Biggest Bed in the World by Lyndsay Camp, Whatever Next by Jill Murphy or Peace at Last by Jill Murphy.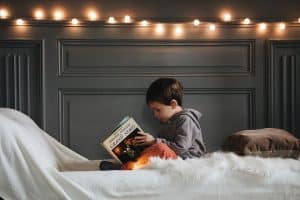 2. Set up a tent (dark den) indoors. Add sleeping bags, pillows, cuddly toys, etc.
3. Give the children torches, glow in the dark stars, glow sticks etc.
4. Emphasise the transition from light to dark/day and night. This will allow the children to develop awareness of time and sequencing from day to night.
5 Facilitate their understanding of day and night by reading day and night stories, pointing out that we go for a walk during the day and sleep at night.
6. Foster the child's awareness of time and sequencing from day to night by discussing bedtime routines. What do we do before bed, bedtime stories …
3. Making Soup – Nicola Andrews
A great activity to do together, with a tasty ending.
Learning Intentions
To be able to identify different vegetables and understand that farmers harvest crops to give us food; safely prepare food for cooking – using a knife correctly to cut food; and remember to always wash hands before touching food.
Activity
1. Using a chopping board and an age appropriate knife, allow the children to choose vegetables to cut up to use to make soup.
2. The adult will model how to hold a knife and how to cut the vegetables safely.
3. The vegetables can then be cooked and made into a soup for the children to enjoy.
4. If the child has a play kitchen, then they can pretend to make their own soup.
4. Nocturnal Habitat – Kerry O'Kane
Story book 'One Snowy night' by Christina Butler. Talk about how the hedgehog feels and ask children to think of what they could do to make him feel happy.
Learning intentions          
Listen to the story and take part in discussions on nocturnal animals; identify a range of natural resources; and identify their qualities to create their own outdoor nocturnal habitat.
Activity 
1. Resources: story can be accessed on Youtube; natural materials from the environment, pipe cleaners and masking tape.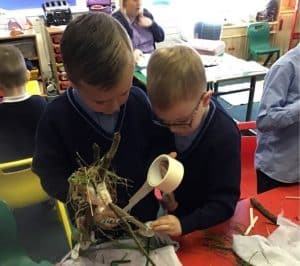 2. Read the story 'One Snowy night' to the children.
3. Ask the children to name different resources they need to collect and support children to talk about the different needs of an animal, e.g. room to get in, somewhere comfortable, a roof to keep dry and somewhere quiet to hide from predators.
4. Collect the resources and build a habitat.
5. Shop the House – Oonagh McLaughlin
Learning Intention
To understand that money can be used to make purchases.
Activity
1. Create a shop in your home, perhaps with drinks or snacks in the kitchen, although this could also be for certain toys, for TV time, internet time or access to digital devices.
2. Label the 'goods' with price tags (perhaps on post-its).
3. Give children a set amount of money and allow them to 'spend' their money over the course of the day, counting out the value of coins and calculating the change owed to them.
4. They could also complete tasks around the house and 'earn' money to spend on things at home, for instance brushing up, putting rubbish into the bin, drying or putting away dishes.