Let Their Creativity Flow!
By nature, children are naturally creative. They love painting and making things. So encourage them to let their creativity flow. Here are some great ideas from our students.
Rainbow People!  
 Megan Morg
Let your child show their arty side and make decisions for themselves by becoming a rainbow person!  
Learning Intentions:  
To work with the visual elements to explore and create visual outcomes
To talk about and comment on what they produce 
Activity:  
1. Have a look at some pictures of rainbows with your child, discuss what colours make up the rainbow. 
2. Create a rainbow picture, using any resources you have at home, for example colouring pencil or paint. But feel free to get creative!  
3. Once your child has recognised all of the colours of the rainbow, see if they can dress up as a rainbow person! See if they can put on an item of clothing or accessory of every colour of the rainbow. This can include; clothes, hats, scarves, jewellery, shoes etc. If your child doesn't have an item in a specific colour, see if they can get creative. Search someone else's wardrobe (with permission), or create something!  
 4. Count how many items your child has on and take a picture!  
 You could also listen to the rainbow song here! https://www.youtube.com/watch?v=4g0NbaukkQc  
Get Creative and Make Some Snow!
 – Heather McKee
It's fabulous fun to play in the snow. There are endless opportunities to be creative. If you are not fortunate enough to have snow where you live, why not make some! It is super simple and lots of fun. 
Learning Intention 
Use a modelling material to make three-dimensional work. 
Resources 
Cornflour, hair conditioner, cup and a bowl 
Activity 
1. Add a 400g bag of cornflour to a large baking bowl. 
 2. Add 1 cup of hair conditioner; lightly scented (I used a cheap coconut conditioner). 
3. Mix together using your hands until you get the consistency of snow. 
4. Now get creative! 
Temporary Natural Art – Traci Hefferon
Creative Art using Natural Materials.
Learning Intentions
To encourage children to explore the outdoors, find and collect natural materials and develop fine and gross motor skills.
Activity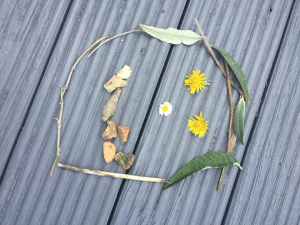 1. Encourage your children to collect various leaves, stones, twigs, moss, pebbles and flowers from the garden.
2. Encourage them to use the collected materials to make a picture on any background.
3. Encourage your children to take a digital photograph of their picture and send it to an elderly relative or friend with a short message.
Wonderwall – Mechelle Caughey
Unleash the creative artist in your child as they create their own large scale masterpiece.
Learning Intentions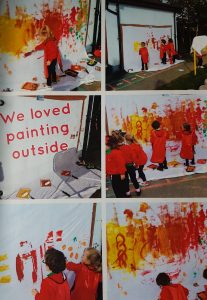 Children will have the opportunity to explore colour through mixing paint.
Activity
1. Hang a large sheet or wall paper on an outside wall.
2. Give your budding artist a choice of paint rollers, brushes and paint.
3. Let the activity be totally child-led – stand back and see what they come up with.
4. Leave the sheet up on the wall and let the children watch how it changes with the changing weather. You can revisit this activity and get them to decorate it with leaves, feathers or other items they may find.
Tin Foil Art – Jaimie Carlile
Looking for a new art medium? Get your children to paint on tinfoil using a variety of materials and watch the amazing results!
Learning Intentions
Develop creativity by exploring and mixing colours and allowing children to experience a range of materials and tools. Express and communicate ideas, thoughts and feelings, responding to visual stimulus.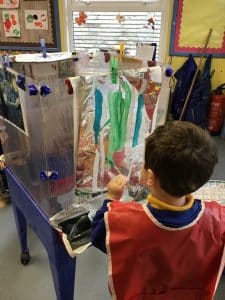 Activity
1. Resources:  cotton buds, blue, white, green paint (fairy liquid added), tin foil (cut to size), paint brushes, blue paint/paper, yellow/green/orange crayons, gold stars, black crumpled paper, swirling pearl stickers.
2. Invite the children to look at a photograph of Van Gogh's Starry Night.
3. Encourage the children to share what they see: the crescent moon, swirling clouds, the stars, a church and houses with lights on.  Ask the children what colours they can find in the painting.
4. Children can then create their own Starry Night painting on foil using a variety of materials and tools; cotton buds, paint brushes, blue, white, green paint. This will allow the children to experiment with mixing colours.
Sock Bunny – Brooke Hanna
Create your own 'sock bunny' toy using a sock, rice, some string and a marker. You can use ribbon and cotton wool for additional effects.
Learning Intentions
Development of fine motor skills, manipulation of materials and design and creativity skills.
Activity
1. Fill the bottom of a sock with rice to make a body and tie off tightly with string around the top of the body to keep the rice inside.
2. Pour more rice into the sock (not as much this time) to form the head. Again, tie the string tightly.
3. Cut the remaining sock down the middle, and stretch into two ears.
4. Add eyes, nose, whiskers, etc with the marker.
5. You could tie ribbon around the neck of the bunny or add a cotton wool tail!
Bubble painting – Amy Woods
Create fascinating bubble pictures with your children using paint and washing up liquid.
Learning intentions
Explore how mixing paint with bubbles can create different prints and patterns on the page. Discuss what they can see on the page and talk about the colours they see.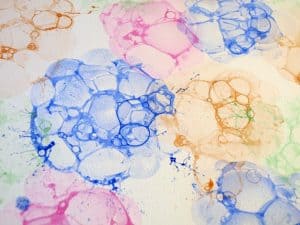 Activity
1. Resources: paint, washing up liquid, pots, straws, paper.
2. Mix paint and washing up liquid into a pot or tray.
3. Using a straw, blow into the pot/ tray until large bubbles form.
4. Using a piece of paper, gently press the paper on top of the bubbles to see the prints the bubbles make.
Natural Paintbrushes – Amy Woods
Experiment with paint and natural 'paintbrushes', exploring the prints and markings made by them.
Learning intentions
To explore and experiment with a range of natural materials found outdoors and paint with them – exploring their patterns, prints and markings.
Activity
1. Resources: natural materials, paint, paint trays, paper.
2. Gather a range of natural materials that may be used as natural paintbrushes such as grass, leaves, flowers, pine cones, etc.
3. Alternatively, tie some grass, plants, etc. to a stick to be used as a paintbrush
Bubble Wrap Printing – Brooke Hanna
Make fascinating shapes with this fun activity. Can you resist popping the bubble wrap afterwards!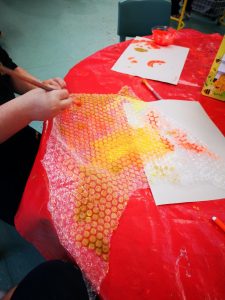 Learning Intentions
Early development of pencil grip, experimenting with colours, creativity and imagination, patience and motivation.
Activity
1. Paint with different colours onto bubble wrap (you could try a picture).
2. Place a blank page on top of the painted bubble wrap, and gently peel off to reveal the pattern!
3. Let it dry. You could cut your pattern into different shapes and sizes.
Mono printing – Kerry O'Kane
Learning intentions          
Children will make a block print; understand that print is a record of a surface; learn about mono printing and other printmaking techniques
Activity
1. Resources: paint, pencil, paper, foam/ polystyrene (can use the foam from a frozen pizza box)
2. Use a pencil to press in an image of a mini beast into polystyrene square. Roll paint over the image and then press face down onto a rectangular page. Lift and press down to create a row of prints.
3. Extend learning by adding different colours to the foam print